Noteshelf App for Digital Planning
Recently I switched to Noteshelf as my main digital planning app. I was a faithful Goodnotes 4 app user before, but recently the synchronization between devices become slower so I started to look for alternatives.
You can find detailed reviews for Goodnotes 5, Notability, Notes Writer and Flexcil here.
In this post I want to make a detailed review of the Noteshelf app, since it's the primary app I'm using right now. I was looking for an app with simple interface, but with all the needed functionality to use my digital planners in the most efficient way.
Pros:
- You can choose between 10 different Appearance styles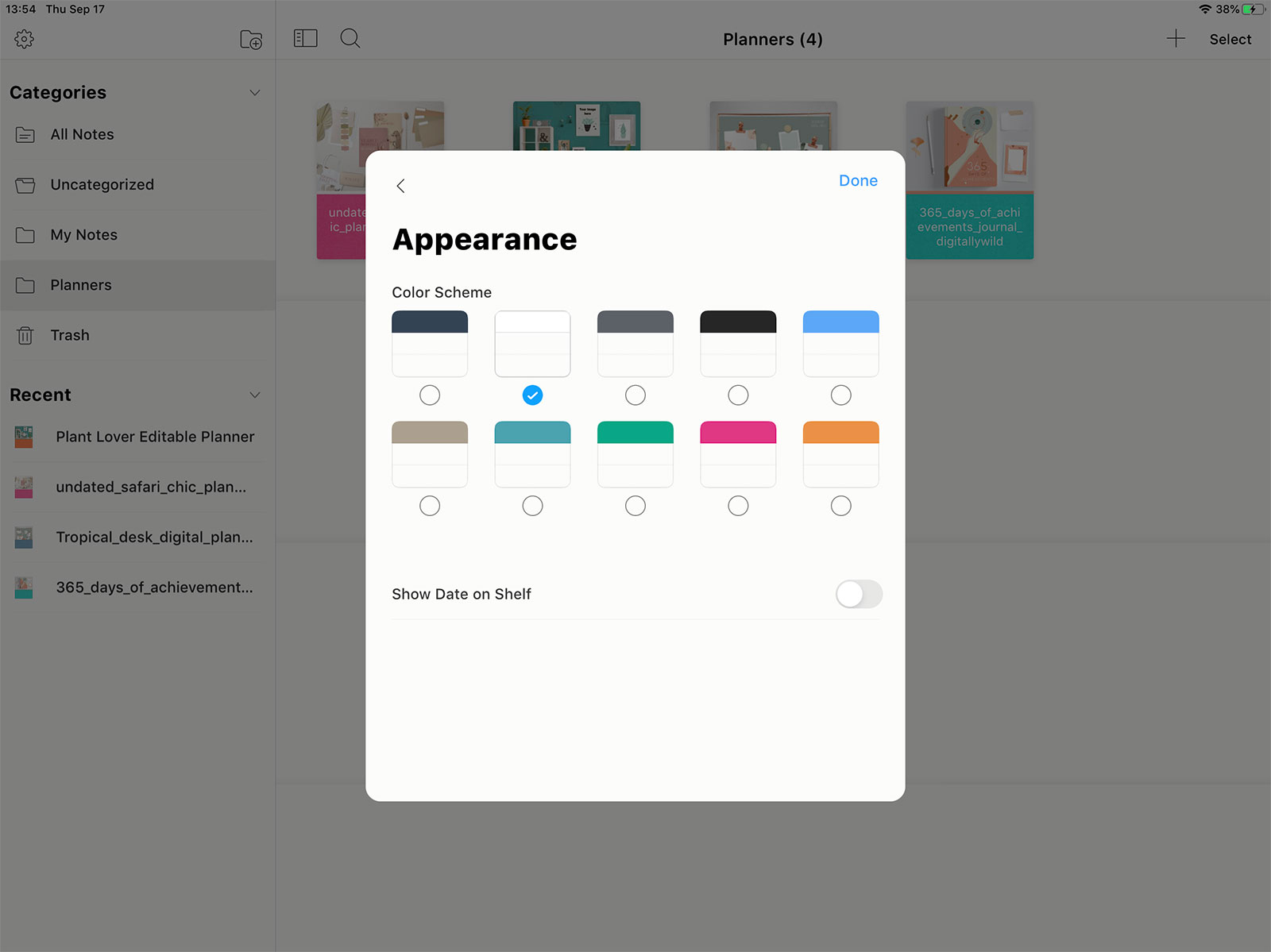 - Ability to create categories
- Nice planners display on the main screen

- You can tap on the hyperlink without the need to switch to Read Only mode like in Goodnotes
- Choose between 4 different pen styles and easily select colors for them. You can also save your own preset to Favourites
- My personal favourite feature: ability to Lock images. Super useful when you add weekly/ daily layout to the page and then want to add stickers to decorate. You can Lock layout and move stickers freely
- Ability to layer stickers, bring them to the Front and sent to the Back
- Swipe from the right side of the screen to bring pages preview and duplicate needed page
- You can set passcode Lock for separate notebook or planner
- You can rotate Text and handwriting, which is great for naming your planner tabs
- Fast synchronization between devices
- Audio recording is available
- Free Clipart Library
Cons:
- I'm missing the fast menu when tap and holding on the screen which brings up Type tool
- The animation when using hyperlinks is not smooth
- The price is higher then Goodnotes or Notability: $9.99
- To add Image without split view, you need to tap on the Plus sign and choose Add new Photo. Would be nice to have an icon for that at the upper tools menu
- There is no tabs inside the app, which means that you can't open multiple documents and switch between them as in Goodnotes.
Hope this post will help you to get the feeling of the Noteshelf and make a decision regarding which note taking app to purchase.
If you have Pros or Cons to add to this list, please comment below.
Talk to you soon,
Kate