DigitallyWild monthly subscription. What is included
If you've been following DigitallyWild for awhile, you know that I love to combine paper and digital experience. So for monthly subscription I came up with idea to put together pdf magazine with links to download files for your digital planning journey.
On 25th of each month, you'll receive pdf filled with:
useful info,
tutorials,
links to download themed digital stickers,
monthly calendars,
weekly calendars,
covers,
notebooks and more.
In a couple of words, everything that digital planning and journaling lover might need. :) Import this pdf to your note-taking app in order to download files.
Once signed up, you'll have access to all the previous issues of magazine, as well as the new ones. Just make sure to create gumroad account when you are subscribing. As long as you are subscribed, you'll continue to receive new magazine issues each month and will have access to the old ones.
You can end your subscription at any time if you are no longer wish to receive new content from DigitallyWild.
Get this FREE planner to use with subscription files:
Issue 01 - August 2019
17 png digital stickers
3 png digital planner covers
customizable cover. Procreate file + Tutorial: "How to customize the cover"
dated august monthly layout (landscape + portrait)
tutorial: "How to change monthly layout in any digital planner". Goodnotes 4 + Procreate
Sneak Peek: September issue
Issue 02 - September 2019
19 png digital stickers + cropped stickers in goodnotes.zip
dated September calendars (Sunday/ Monday start; landscape and portrait)
daily schedule png layout
digital study tips videos and instagram accounts to follow
digital notebook with 5 subject tabs
Issue 03 - October 2019
15 png digital stickers + ready to use stickers in goodnotes.zip format
dated October calendars (Sunday/ Monday start; landscape and portrait)
digital washi tapes + patterns to make your own stickers
weekly layout
weekly goals digital planner
video tutorial: how to make stickers using pre-made patterns
Issue 04 - November 2019
16 png digital stickers + ready to use stickers in goodnotes.zip format
dated November calendars (Sunday/ Monday start; landscape and portrait)
6 digital photo frames
weekly layout (sunday/ monday start)
digital sticky notes
recipe book
Issue 05 - December 2019
15 png digital stickers + ready to use stickers in goodnotes.zip format
dated December calendars (Sunday/ Monday start; landscape and portrait)
christmas digital papers
weekly layout (sunday/ monday start)
shopping list
digital scrapbook
Issue 06 - January 2020
15 png digital stickers + ready to use stickers in goodnotes.zip format
dated January calendars (Sunday/ Monday start; landscape and portrait)
to-do sticky notes
weekly layout (sunday/ monday start)
goals list
planner charms
Issue 07 - February 2020
15 png digital stickers + ready to use stickers in goodnotes.zip format
dated February calendars (Sunday/ Monday start; landscape and portrait)
Valentine's Day digital papers
weekly layout (sunday/ monday start)
procreate customizable photo frames
procreate brush set
Issue 08 - March 2020
15 png digital stickers + ready to use stickers in goodnotes.zip format
dated March calendars (Sunday/ Monday start; landscape and portrait)
bucket list layout
weekly layout (sunday/ monday start)
digital notebook
mood board
Issue 09 - April 2020
15 png digital stickers + ready to use stickers in goodnotes.zip format
dated April calendars (Sunday/ Monday start; landscape and portrait)
utility bills tracker
weekly layout (sunday/ monday start)
home maintenance checklist
chalk board .png
Issue 10 - May 2020
15 png digital stickers + ready to use stickers in goodnotes.zip format
Bonus sticker set with 389 png stickers
dated May calendars (Sunday/ Monday start; landscape and portrait)
mood tracker
weekly layout (sunday/ monday start)
self care page
happy thoughts page
Issue 11 - June 2020
15 png digital stickers + ready to use stickers in goodnotes.zip format
dated June calendars (Sunday/ Monday start; landscape and portrait)
instagram tracker
weekly layout (sunday/ monday start)
ideal day page
digital papers
Issue 12 - July 2020
15 png digital stickers + ready to use stickers in goodnotes.zip format
dated JuLy calendars (Sunday/ Monday start; landscape and portrait)
food journal page
weekly layout (sunday/ monday start)
checklist sticky notes
png hang tags
Issue 13 - August 2020
15 png digital stickers + ready to use stickers in goodnotes.zip format
dated August calendars (Sunday/ Monday start; landscape and portrait)
1 year anniversary bonus stickers
weekly layout (sunday/ monday start)
digital photo frames
coloring page
Issue 14 - September 2020
15 png digital stickers + ready to use stickers in goodnotes.zip format
dated September calendars (Sunday/ Monday start; landscape and portrait)
digital papers
weekly layout (sunday/ monday start)
Ipad Pro mockup
positivity notes page
Issue 15 - October 2020
15 png digital stickers
dated October calendars (Sunday/ Monday start; landscape and portrait)
washi tapes
weekly layout (sunday/ monday start)
customizable notebook cover
stationery for mockups
Issue 16 - November 2020
15 png digital stickers + ready to use stickers in goodnotes.zip format
dated November calendars (Sunday/ Monday start; landscape and portrait)
habit tracker
weekly layout (sunday/ monday start)
frame sticker set
sleep tracker
Issue 17 - December 2020
15 png digital stickers + ready to use stickers in goodnotes.zip format
dated December calendars (Sunday/ Monday start; landscape and portrait)
"My stories" pdf notebook
weekly layout (sunday/ monday start)
happy notes
washi tapes
Issue 18 - January 2021
15 png digital stickers + ready to use stickers in goodnotes.zip format
dated January calendars (Sunday/ Monday start; landscape and portrait)
Mood tracker
weekly layout (sunday/ monday start)
Yearly planner page
2021 small monthly calendars
Issue 19 - February 2021
15 png digital stickers + ready to use stickers in goodnotes.zip format
dated February monthly layout (Sunday/ Monday start; landscape and portrait)
daily planner page
weekly layout (sunday/ monday start)
planner charm
heart sticky notes
Issue 20 - March 2021
15 png digital stickers + ready to use stickers in goodnotes.zip format
dated March monthly layout (Sunday/ Monday start; landscape and portrait)
header stickers
weekly layout (sunday/ monday start)
digital notepad
to-do lists
Issue 21 - April 2021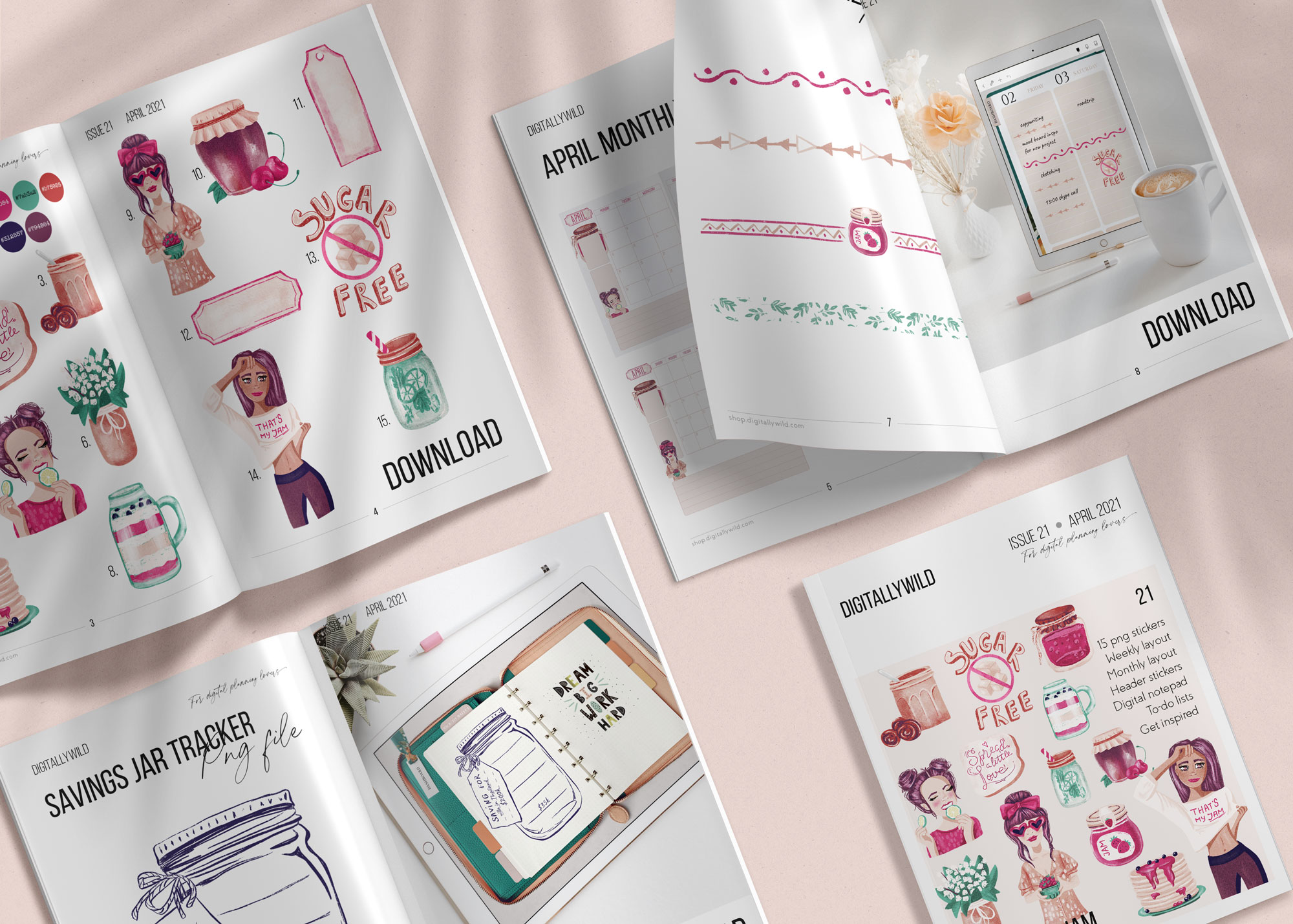 15 png digital stickers + ready to use stickers in goodnotes.zip format
dated April monthly layout (Sunday/ Monday start; landscape and portrait)
divider stickers
weekly layout (sunday/ monday start)
digital papers
savings jar tracker