Note taking apps for digital planning
Since digital planners are pdfs, you need an app to use them with. So in this post I'll cover the best note taking apps specifically for digital planning. There are a LOT of apps that work with pdfs, BUT for our purposes we need specific app features. Not all apps that can annotate pdf will be good for planning.
Note taking apps that are reviewed in this post are: Goodnotes, Notes Writer, Notability and Flexcil.
Goodnotes 5
This one is the most used app for digital planning. To say the truth, I do not like the updated version. I still use Goodnotes 4. Reasons why I don't like it: too buggy (some things just don't work as they supposed to, a lot of glitches) and the interface is too complicated. Version 4 is much more stable, works without any issues and more user friendly. But since it's not available at the Appstore anymore, let's take a look at what Goodnotes 5 has to offer.
Pros:
- Ability to make category folders for planners, notebooks, stickers etc.
- Hyperlinks. The main feature that makes digital planning so efficient is the ability to jump to the needed page with one click
- Nice brush presets and smooth handwriting with Apple pencil
- Ability to easy choose pen and highlighter color with color picker. You can also enter color hex code (I always include hex codes for my monthly subscription stickers, so you could match color palette with your highlighters and pen). You can save your favourite colors as Presets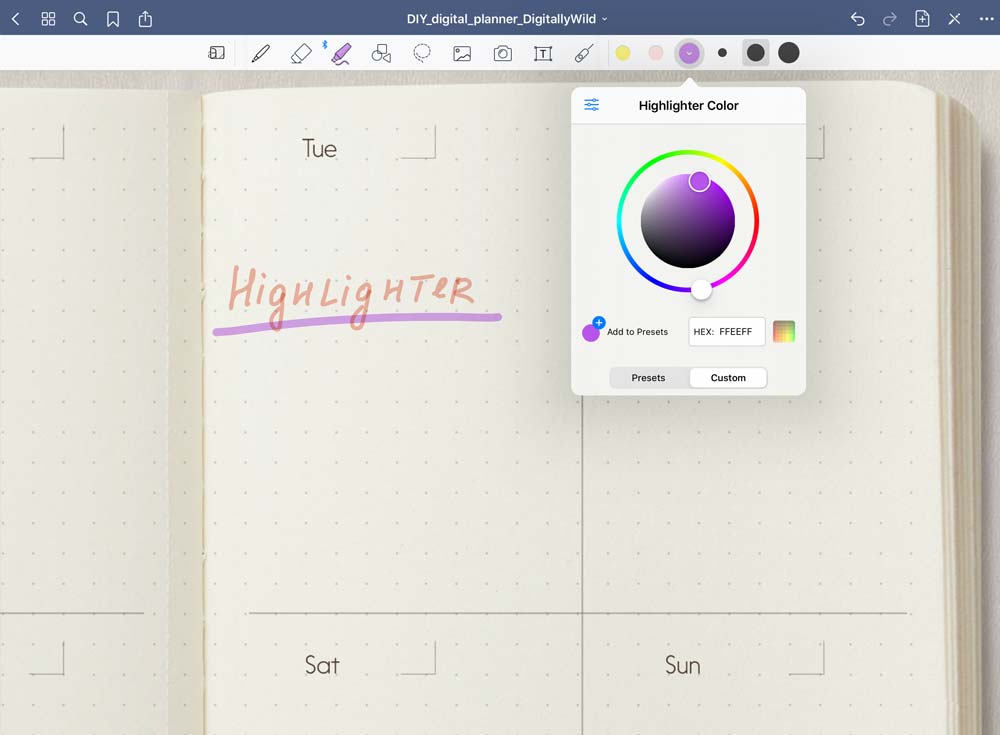 - With shape tool you can draw checkmarks for your to do lists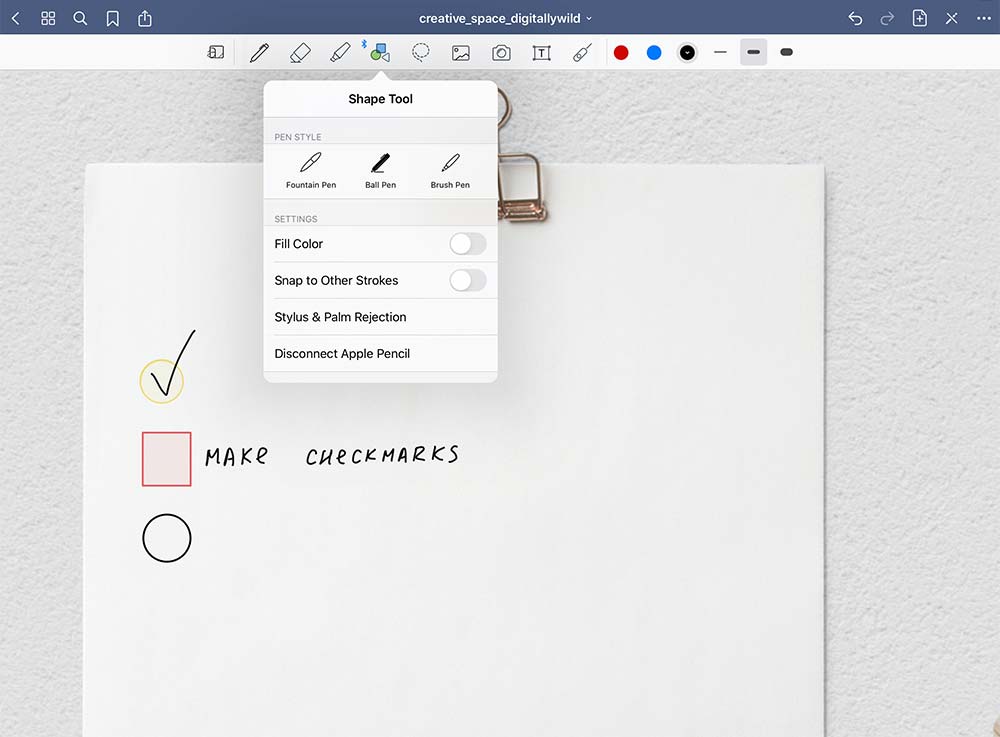 - You can easily copy/ paste, move and rotate digital stickers with Lasso tool
- Ability to drag and drop images and stickers with split view
- You can type using custom fonts which you can install to your Ipad with IFont app
- Convert handwriting to font
- You can copy any planner page and duplicate it with hyperlinks working
- When you purchase Goodnotes on your Ipad, it's also available on your Iphone. Your planners and notes synchronise between your devices and you can add tasks on the go from your phone
Cons:
- You have to switch to Read Only mode to use hyperlinks which is annoying when you are writing and want to move to another page fast
- You can't tap and hold on the screen to choose type tool or insert image fast. It's a real issue when you want to type quickly something on your phone (where tools menu is limited, so you can't see Type tool icon). You have to scroll tools menu at the top to find Type tool and select it. There is no easy way to resize text and enlarge it.
- There is no layered system for stickers. For instance, if you have png layout added to the page and then you add sticker on top of that layout, you can't move just sticker or layout. The Lasso tool will select both images
- Glitches that may occur: some hyperlinks will not work, planner pages will take a long time to load, yellow or red line appears on the page out of nowhere.
- You can't add link to another page within the planner. This feature would be super useful to link dates at the monthly/ weekly layout to daily page.
Notes Writer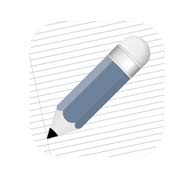 This is one of the underrated note taking apps out there. I actually didn't see anyone review it before for digital planning. But I really do think that it's a really nice app, especially if you just starting out and want to get the feeling of what digital planning is.
Pros:
- Free version is available. You'll see ads at the catalogue page, but no ads when opening a planner. When you upgrade for $7.99, you'll have ads free catalogue page, unlimited notebooks import and better sync between devices.
- You can set up different settings for page mode, transition and scroll. I really like Curl page transition. Didn't see other note taking apps offer this.
- Really nice writing tools. You have a lot of control settings for them. You can easily choose color with color wheel (similar to Goodnotes), set blending mode, opacity and even choose background color (great for highlighting your notes).
- You can use hyperlinks in Writing mode. Just tap on the tab with your finger (not Apple pencil) to be redirected. LOVE this feature.
- One of the cool features I like is ability to add links to another page within the planner. This is really great when you want to link your monthly/ weekly calendar to daily page for instance.
You can change Links that are included in the planner to be linked to another page.
Has a lot of clipart images and stamps included in free version.
Drag and drop stickers with Split view. Rotate and resize them.
You can add voice notes and record audio files. When long press anywhere on the page - quick menu appears with ability to quickly add text, note, image, stamp and audio.
Nice options to make shapes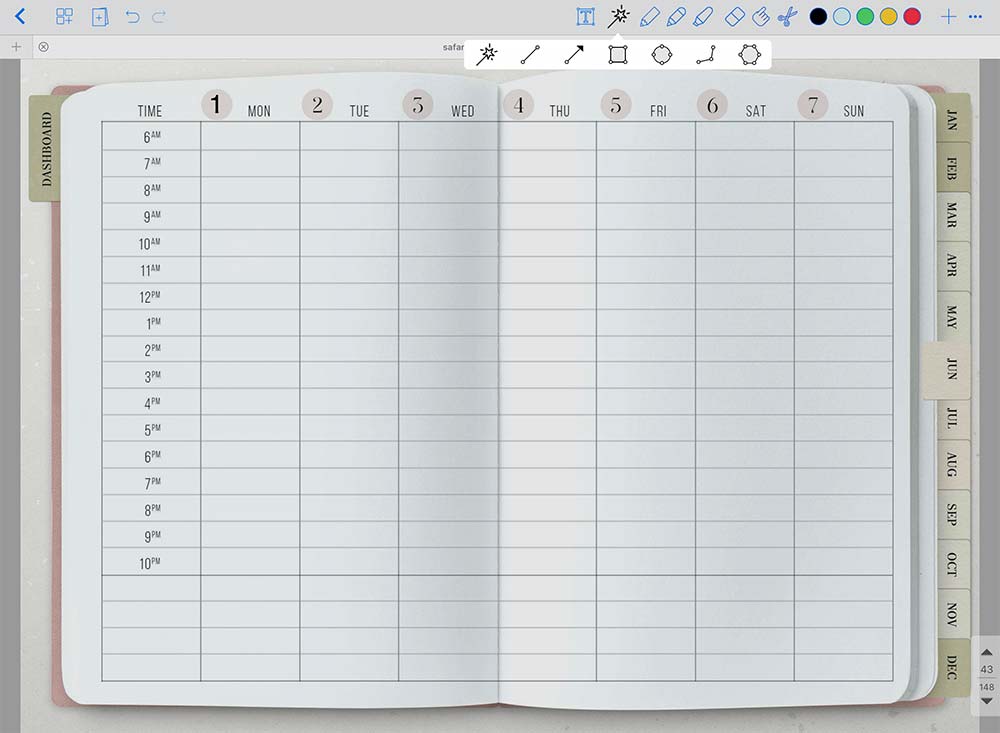 - You can add different paper layouts to your notebook pages and easily delete them after you wrote text (included in free version as well).
Cons:
- If you have landscape planner, it'll be squashed into portrait format at the catalogue page. I wish they would support landscape pdf previews

When you add Link, it is set by default to be really small, so you might not see it. It's always added in Blue color in the middle of the page. You need to know where to look to find it.
- Sync between devices is really slow and not accurate. Sometimes it says that it's updated, but the info you wrote on Ipad is not on the Iphone app. (Maybe this issue is fixed in paid version, can't say).
- The page numeration at the bottom right corner is getting in the way. You can easily press on it when writing and jump to another page.
- The cut tool (scissors) doesn't allow you to make a selection properly. If you want to make a selection and copy part of the image, you need to switch from Curl page transition to Jump. Otherwise the page keeps turning and you can't make a selection.
Overall this is a great app for digital planning, even with a free version you have a loot of awesome tools at your disposal.
Notability
I'm not a fan of this one. This is personal preference of course, I know a lot of people who are enjoying Notability for digital planning. But for me personally, the biggest draw back is working with hyperlinks in it. Particularly the fact that you can't tap on the link and jump to that page. I really don't like having preview of that page showing first.
Otherwise it's a simple app with just enough features for digital planning and taking notes.
Pros:
- Nice handwriting tool
- You can create your color palettes and add colors with Color wheel and hex codes.
- When you write smth and then highlighted it, you can erase only highlighter with Whole Eraser tool, leaving text untouched.
- Sticky notes are included.
- You can add voice notes.
- Nice crop tool. It's not at the isolated window as in Goodnotes, you can crop directly on the page, so you have more control and accuracy for placing planner layouts.
- You can move your text and change it's color with Cut tool.
Cons:
- A bit more pricey then other apps: $8.99.
- I guess that it's more of a personal presence, but I don't like the catalogue page: the divided window with document titles. Being more visual person, I like to see big previews of my planners and notebooks.
- You can't jump to needed page in one tap. First you need to choose Hand tool, then preview of the linked page will appear and then you have to tap on that preview to go there.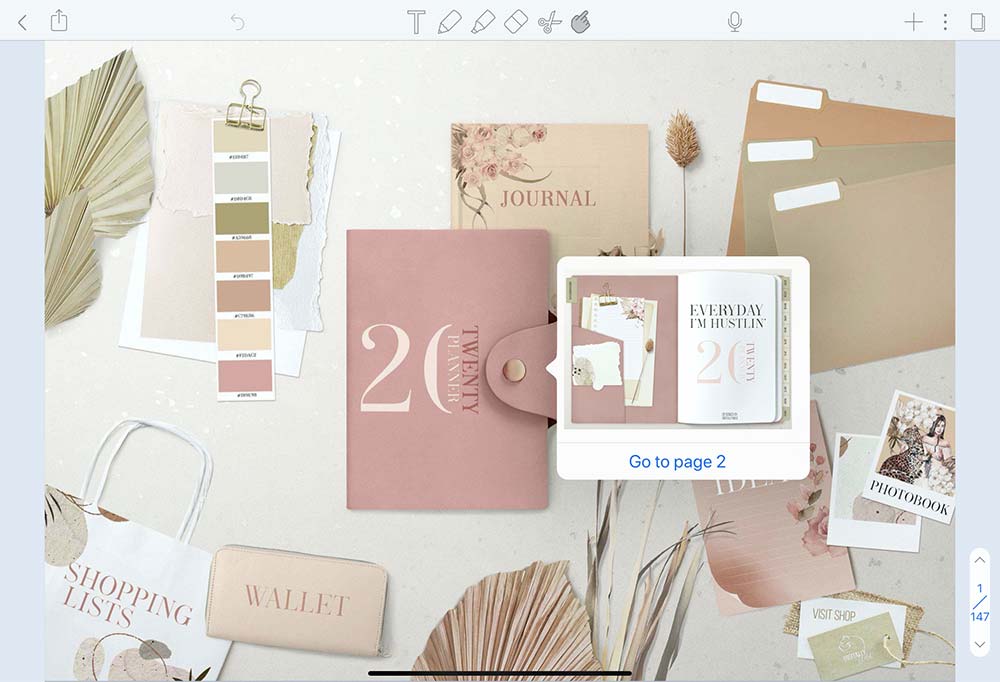 Working with png page layouts and stickers. For instance, when you added the layout and then you want to add sticker on top of that layout it'll work only as long as you don't tap on that page layout. If you tap on the page layout, sticker that you placed on top - will be brought to back and there is no way to move it back to front unless you move your layout.
- No Redo button.
Flexcil
This app will be more suitable for students to annotate pdf books and make study notes. It even has Study notes window and separate category for Study notes at the catalogue page.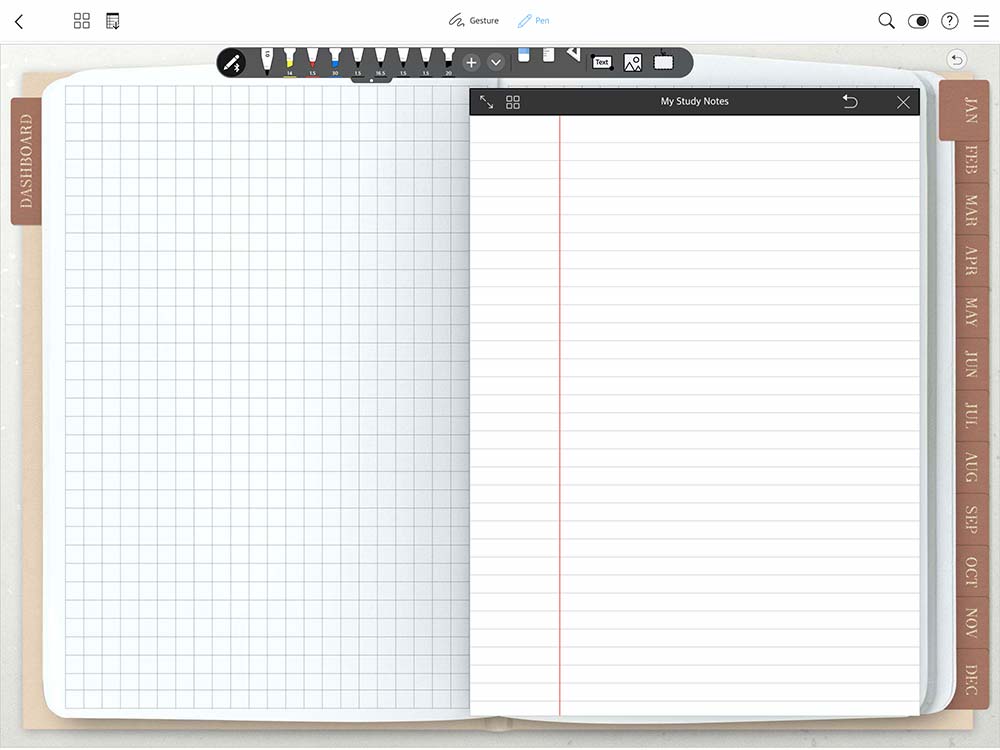 But it can also be used for digital planning. It's minimalistic, fun and different. Takes some time to get used to switching between two modes tho, but overall it does the job.
Pros:
- 10 days of Free trial is available. Then you pay one-time payment of $8.99.
- Ability to add folders and categorize your documents.
- Easily navigate through planner with hyperlinks in Gesture mode (one tap to go to needed page).
- Add text and images in one tap.
- A lot of writing tool settings that you can control. The tools panel is movable, so you can place it where you want.
- Shape tools
- You can select and move your note. Also you can easily copy it to clipboard in one tap
- With Eraser tool you can choose to Clear the whole page and opt to Auto-Deselect Eraser when done.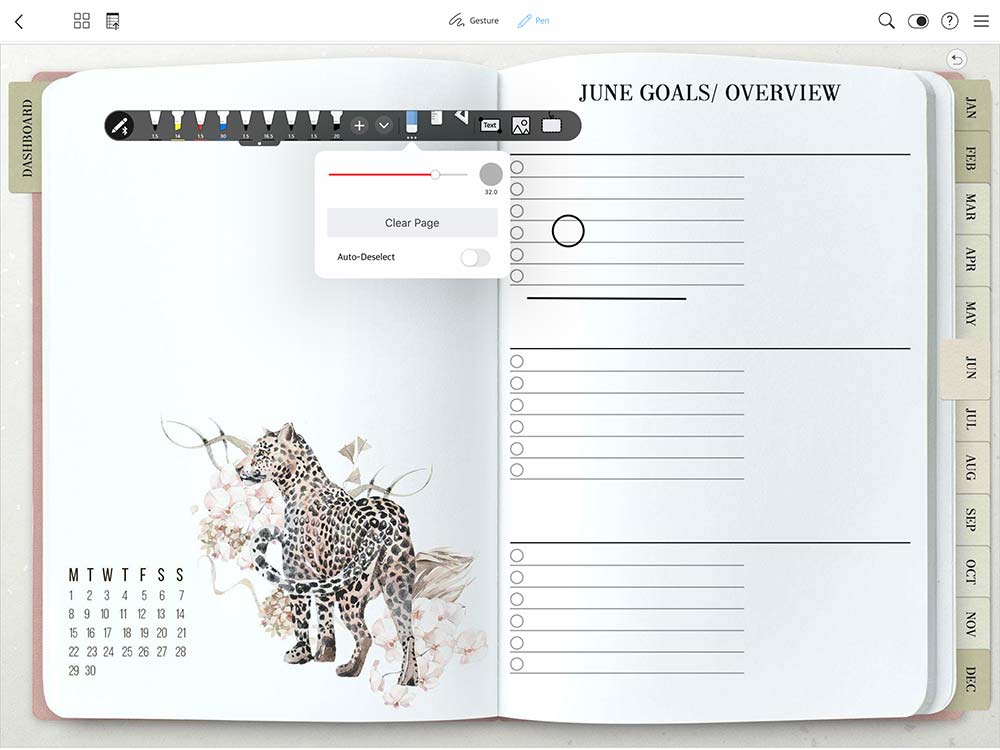 Cons:
- Available only for Ipad. So there is no sync between your devices.

- To select sticker you need to switch to Gesture mode and draw around it with Apple pencil.

- Highlighter doesn't have Multiply blending mode, so it's kinda cover your text.

- You can't rotate stickers.

Read Noteshelf app review here.

I hope this post will be helpful in making decision of which note taking app to choose for your digital planner. If you have other apps that you are love for digital planning, let me know. I'd love to review them.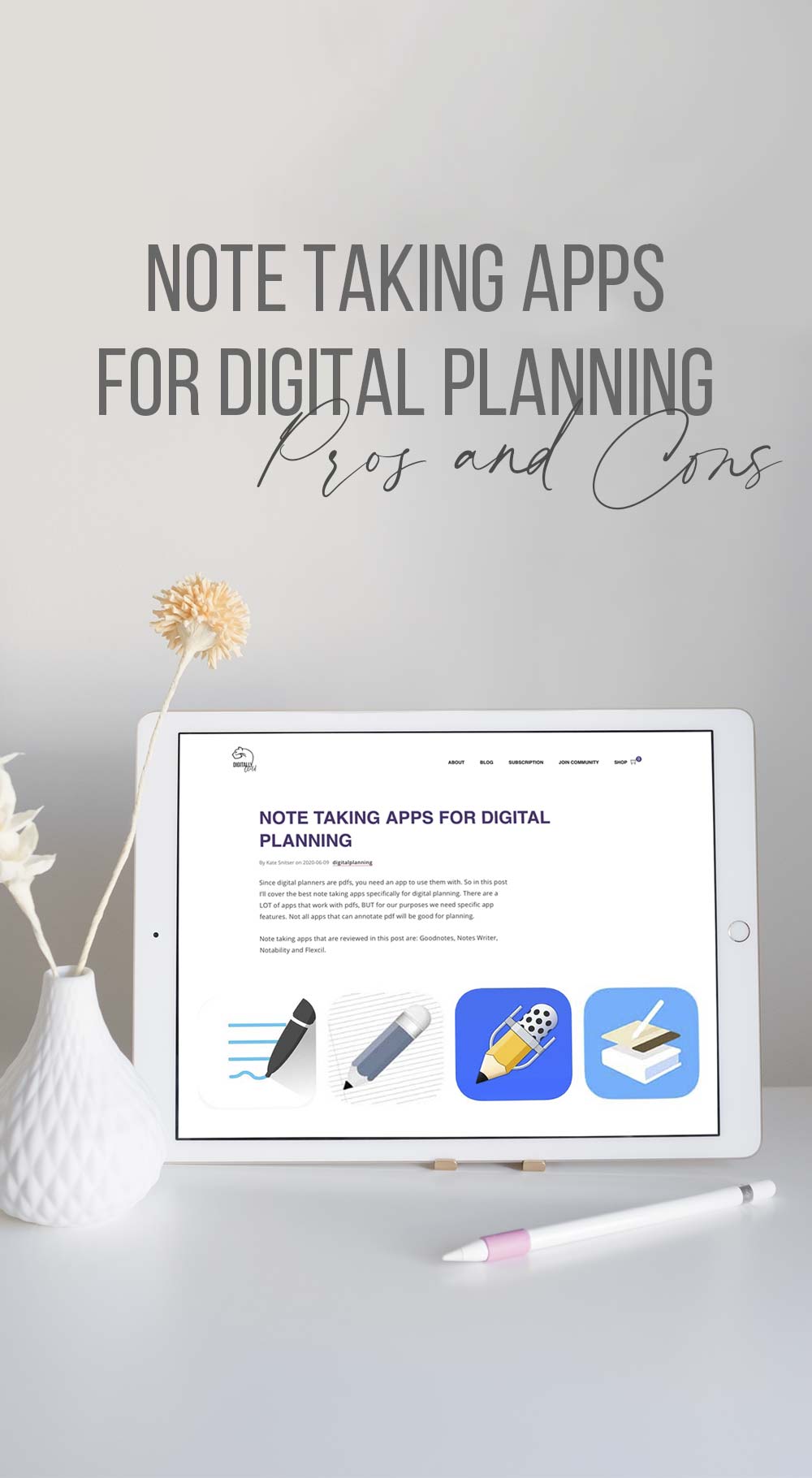 Talk to you soon,
Kate