Joyful Digital planner, How to have the best day ever
Recently I launched Joyful journal - a meditative self discovery workbook. I illustrated each page and researched creative exercises that will help to learn how to leave limiting beliefs behind and discover who you are and what you desire out of life. The journal comes with empty "Joynal" and doodle templates. You can check it out here.
As I was filling in the pages, I got an idea: Why not to design a Joyful planner which I can use everyday and which will be a perfect addition to the journal? :)
Meet a Joyful Planner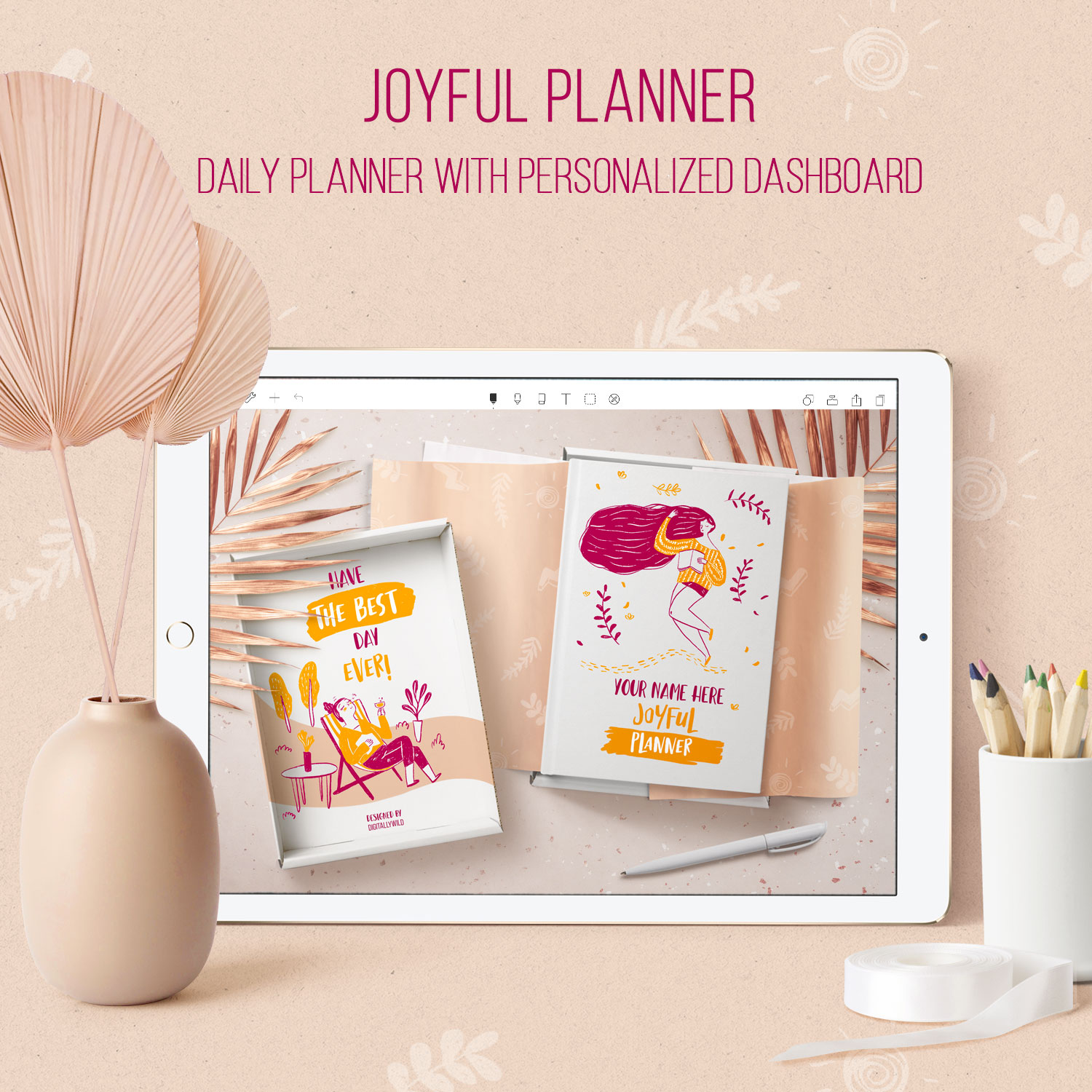 As with all of my products, I like to include customization options and interesting features. For this one - it's a personalized dashboard :)
At the checkout, leave a name you want for the cover at the "Notes to seller" field, I'll design and sent it to you within 24 hours.
When you purchase the planner, it'll come as pdf with this dashboard:
To add your personalized cover in Goodnotes:
- save dashboard I'll sent to Camera roll or Dropbox
- drag and drop it with split view, place on top
- with Lasso tool select dashboard and copy
- NB! do not import it as image inside Goodnotes, it'll be with white background instead of transparent one
- place your photos on top of frames first
- select dashboard - delete
- tap and hold to paste it again on top of your photos
Another option is to crop the box lid and use only personalized cover. When you place cover on top of existing one, the hyperlinks are still going to work :)
To add your personalized cover in Noteshelf:
- tap on Plus sign and choose dashboard from Camera Roll
- Place it on top and Lock
- tap on plus sign again and choose your photos
- place them and send to back
To crop the dashboard - select it - Edit - Crop. Easy peasy :)
Joyful planner comes as Undated Monthly/ Daily planner. So it can be used year after year, everyday :)
For the daily page I included useful sections, that will help you to spend the day with the sense of accomplishment and joy.
When combined with Joyful journal, you will have 615 doodle templates, from which you can make stickers to use with this planner. Check the video below on how it works: