2021 Fresh start digital planner
After a year we had, I think you would agree that we all need a Fresh start. A year when we can reset, be more organized and have a peace of mind. There is nothing more satisfying then filling in these blank pages with exciting goals, dates and things you are looking forward to.
I've been working on 2021 planner for quite sometime. Trying to perfect it, to make it not only eye candy but also super customizable, functional and easy to use.
You only need your note taking app to customize this planner if you wish to do so. It already has designed layouts in place, but also a lot of room to add your own. It can be transformed to fit all categories of your everyday life and satisfy any need.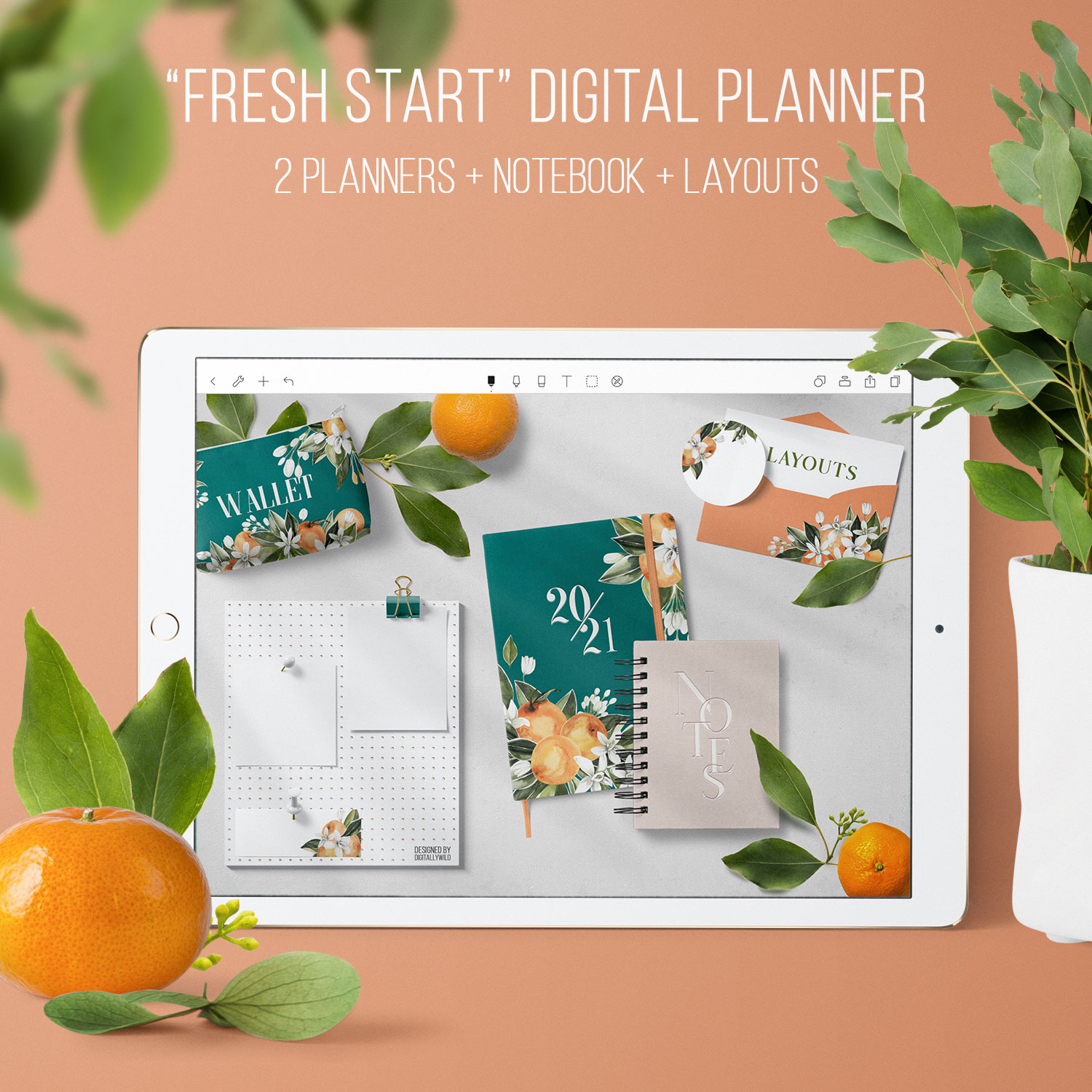 To start off, let's customize the dashboard
I intentionally left empty space at the mood board and included png file of the pin, so you can add your own photo to the board. It can be photo of your ultimate goal for 2021, something that motivates you or make you smile. :)
P.S. I use Noteshelf app with this planner, because I love features like bringing image to front/ sending back and lock option for images. But it can be used with GoodNotes, Notability and android note taking apps as easily.
The mood board section has 3 clickable links to empty pages where you can add your own layouts, documents, store photos etc. You can also add images, text or lettering to these.
Main planner
Main planner is designed in style of DigitallyWild :) You have yearly page, and tabs that are linked to dated monthly pages. Similar to Safari Chic planner, I included monthly overview page, which I found myself using all the time. At the beginning of the month, you can write down everything you want to do, or track what was done at the end of the month. I also included a space to reflect on what was good or can be improved that month. Different graphics for each season gives more variety.
When you tap on the circles of first days of the week, you'll be redirected to weekly page. I designed weekly page with wider space to write, so you have two spreads. I also included schedule and checklist stickers that you can copy/ paste to this page. And, variety of realistic sticky notes :)
Now, the awesome feature of this planner, is ability to customize weekly pages and add daily pages when needed. This download comes with goodnotes.zip and noteshelf.zip files which include all layouts cropped and ready to use. If you prefer week at a glance view - you can choose from the included layouts and change it in a few taps.
How to change/ add weekly layout:
For the second weekly page you can choose to replace it with empty page or choose daily layout.
Notebook
Notebook comes with 7 tabs and two png layouts to choose from. Just go to the layouts sections, copy needed element and paste to the page. In Noteshelf app, you can Lock layout, so it won't be accidentally moved while writing.
You can use this notebook for class notes, recipes, thoughts, ideas etc.
Wallet section
Wallet section is also one of my favorite features of this planner. It's basically planner inside the planner :) You have monthly income/ expenses page, yearly overview, separate pages to track bills and savings. And, additional planner/ notebook with 5 tabs. You can use it to set financial goals, add trackers, write down expenses/ income in more detail etc.
I used Safari Chic planner for the whole 2020 year and now, I'm kicking off 2021 with this Fresh Start planner. I'm sure I'll use it throughout the year and I know that you will too :)
Because it's so customizable, you can really make it your own whether you are a student, business owner or stay at home mom.
Check out "Fresh Start" planner at the shop
Let's make 2021 the best year ever! :)
Talk to you soon,
Kate