How to organize your digital stickers using Sticker book
Stickers for digital planning is an absolute game changer. There is no shortage of digital stickers and you can reuse one as many times as you want. You can find free stickers online, draw your own, buy at the shop, use illustrations from micro stocks.
If you fall for digital planning and paperless lifestyle, I'm sure you acquired a TONS of digital stickers. Some you might use on daily basis, some occasionally. From here the question of storage comes up: what's the best way to easily and quickly get access to your favourite stickers?
Saving digital stickers to your Camera roll is one way, BUT it takes a lot of Ipad's storage space. AND, you have to scroll your feed for hours to find THE sticker you need right now. I used to save files to my Camera roll before, and after spending Hours trying to find the needed sticker I just gave up. I also found myself forgetting about stickers and layouts I have only to download and save them again. Sounds familiar?
Another way might be to store your digital stickers in Files folder on ICloud or in Dropbox folder. But again, if you have TONS of stickers, what's the best way to organize them without creating a bunch of folders?
If you are a digital planner for awhile, I'm sure you've heard about digital Sticker books. These are "magical" pdf documents that you can import to your favourite note taking app. Digital sticker books have some kind of organization technic that you can use. They might have categories, tabs etc. They are designed to help you organize and store all of your digital goodies in one place.
I'd love to show you how I organized digital goodies from monthly subscription and digital stickers from the shop in my Sticker book.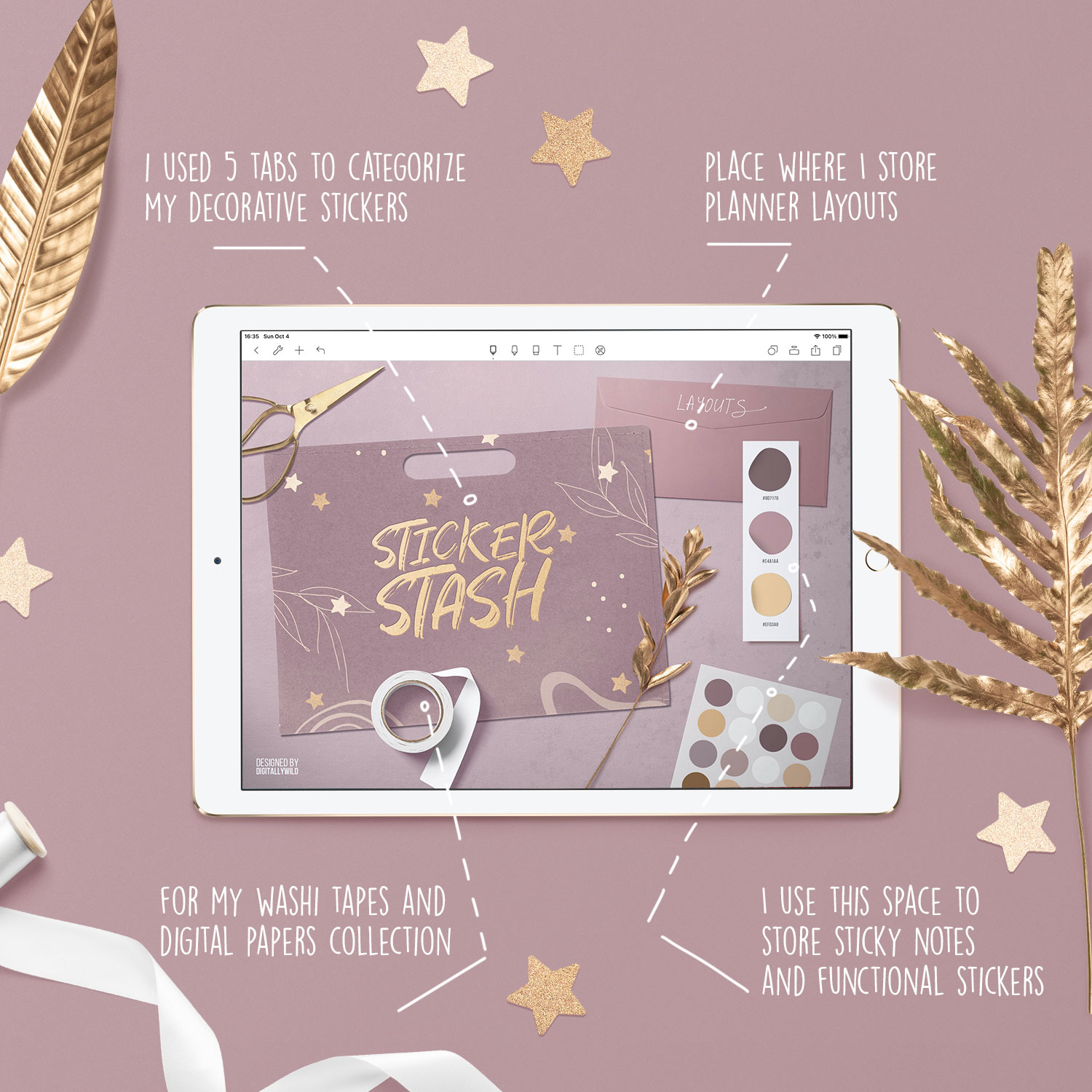 Main Sticker stash folder
First, I named my tabs so I could easily identify needed category of stickers I have. Then Using Lasso tool I copied names of the tabs and copy/paste them to other pages of this notebook. Now when I'll copy page to add more stickers, it'll be copied with names of the tabs.
Here are my categories: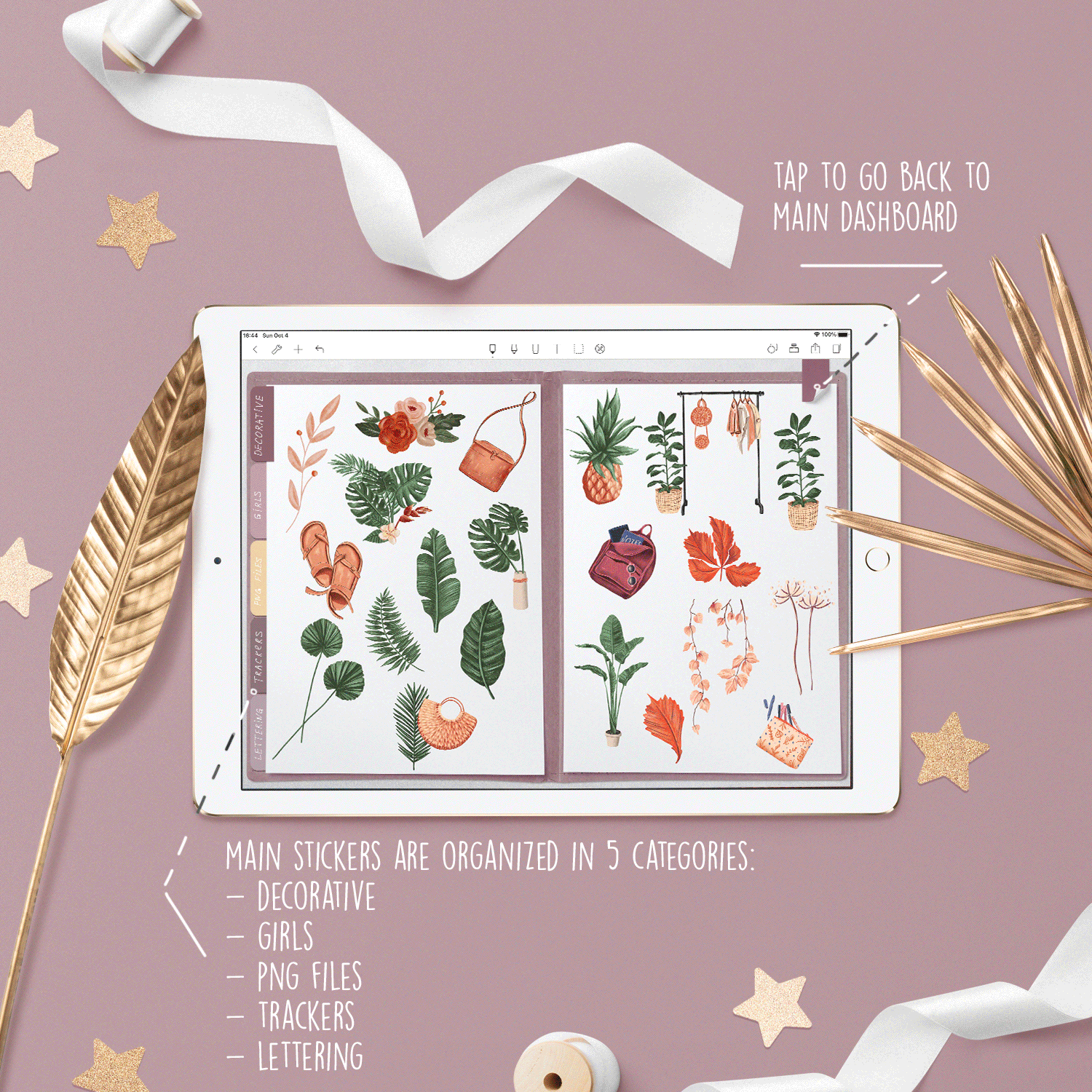 To add stickers from Dropbox app:
- Make a split view of note taking app and Dropbox
- Drag and drop sticker from Dropbox to needed page of Sticker book
To add stickers from Camera roll:
- Make a split view with note taking app and Camera roll
- Open Photos folder, drag and drop png image to Sticker book page
When purchasing from shop.digitallywild.com:
- Download and unzip file in your Downloads folder on Ipad
- Make a split view with Files app where you downloaded stickers and Note taking app
- Drag and drop sticker by sticker to needed Sticker book page
Store digital planner layouts
Each month I include dated monthly/ weekly and other useful layouts for digital planner in my monthly subscription. I have different theme for each monthly magazine and these layouts are matching that months theme and color palette.
Weekly layouts are undated and can be used month after month, so I like to store them in my Sticker book for quick access, along with other layouts I can use during the year.
I designed a landscape page in my Sticker book to easily store these layouts. And the same as with digital stickers, I can use Lasso tool to copy/ paste needed layout to digital planner page.
Washi tapes storage
I love love digital washi tapes and digital papers. Similar to paper ones, you can use them to decorate planner spreads. I often include some in my monthly subscription.
You can also create your own washi tapes with digital papers. Use Crop tool in note taking app with selected digital paper and draw a jagged lines on both sides to imitate paper tear.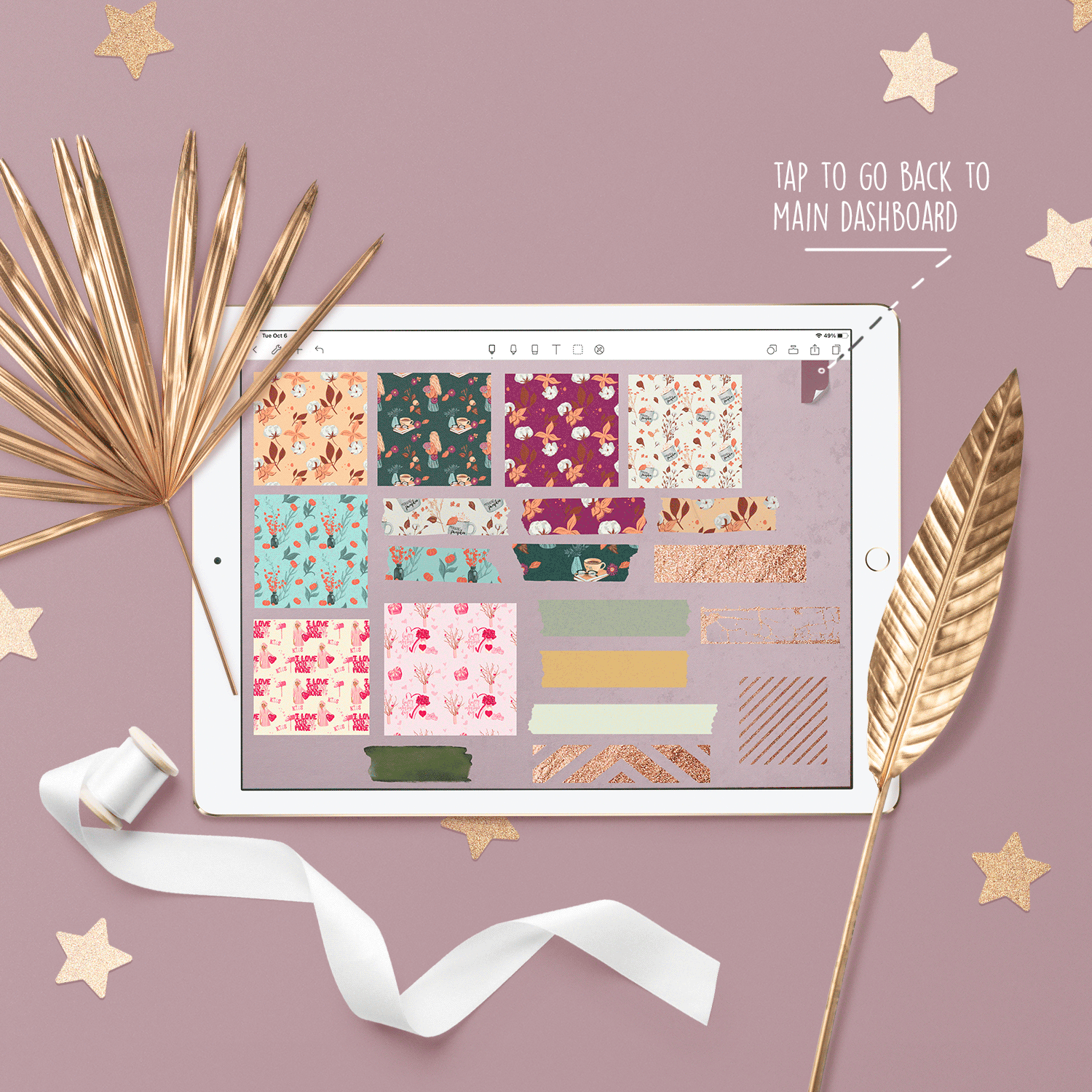 Functional stickers
Functional digital stickers are probably the most used stickers in your digital planner. To access them in one tap, I designed two sections specially for functional stickers and sticky notes. Just one tap from dashboard - and you are redirected to your most used stickers.
I hope this post and look inside my Sticker Stash gave you some ideas on how to use and organize your digital stickers.
I have 3 additional color palettes for Sticker book: camel, navy and luxury green. If you like to organize your stickers by color, you can do so with these additional Sticker books. :)
Talk to you soon,
Kate