design your own digital planner
I've been asked a lot about customization of digital planners and journals. It totally makes sense. There are no people alike, everyone is unique, everyone has her/his preferences in color palette, layouts etc.
As for me I absolutely love to design my own planners and journals. It's not only fun but it also very practical and you know that it'll be exactly like you want it and that you'll love to use it. I also like to create realistic journals, using real images and textures. I definitely not a fan of digital keynote planners that look exactly the same.
So I thought, it'll be cool to give you guys full ability to design your own realistic planner or journal. The best way to create those designer planners - is in Photoshop, since it's the main program to use for work with images. It has so many possibilities and you'll feel like a pro designer making your own planner.
Even if you have no idea what Photoshop is and never used it before, I provide below very detailed step by step instructions. You'll know for sure what to do and where to click. Not only you'll create a stunning realistic planner for yourself, but you'll also be learning Photoshop on the way, which might prove itself as a very useful tool if you are into digital planning.
P.S. If you don't have Photoshop installed, just download it's trial version.
I also include the Keynote file with all the links already created. You'll just need to replace images with your own designs and save as pdf to use with Goodnotes or any other app you use for digital planning/ journaling.
So, let's start from the beginning and design your Cover
2019 is a year of bright bold colors and is all about mixing illustrations with realistic images. Perfect combination :) So I drew illustrations and designed patterns for you, using those trends.
Inside, the .psd file for the cover looks like this:
In order to edit the design - double click on the red layer image. Photoshop will open another window with the cover mockup. You don't need to change anything there, just double-click on the marked red layer once more.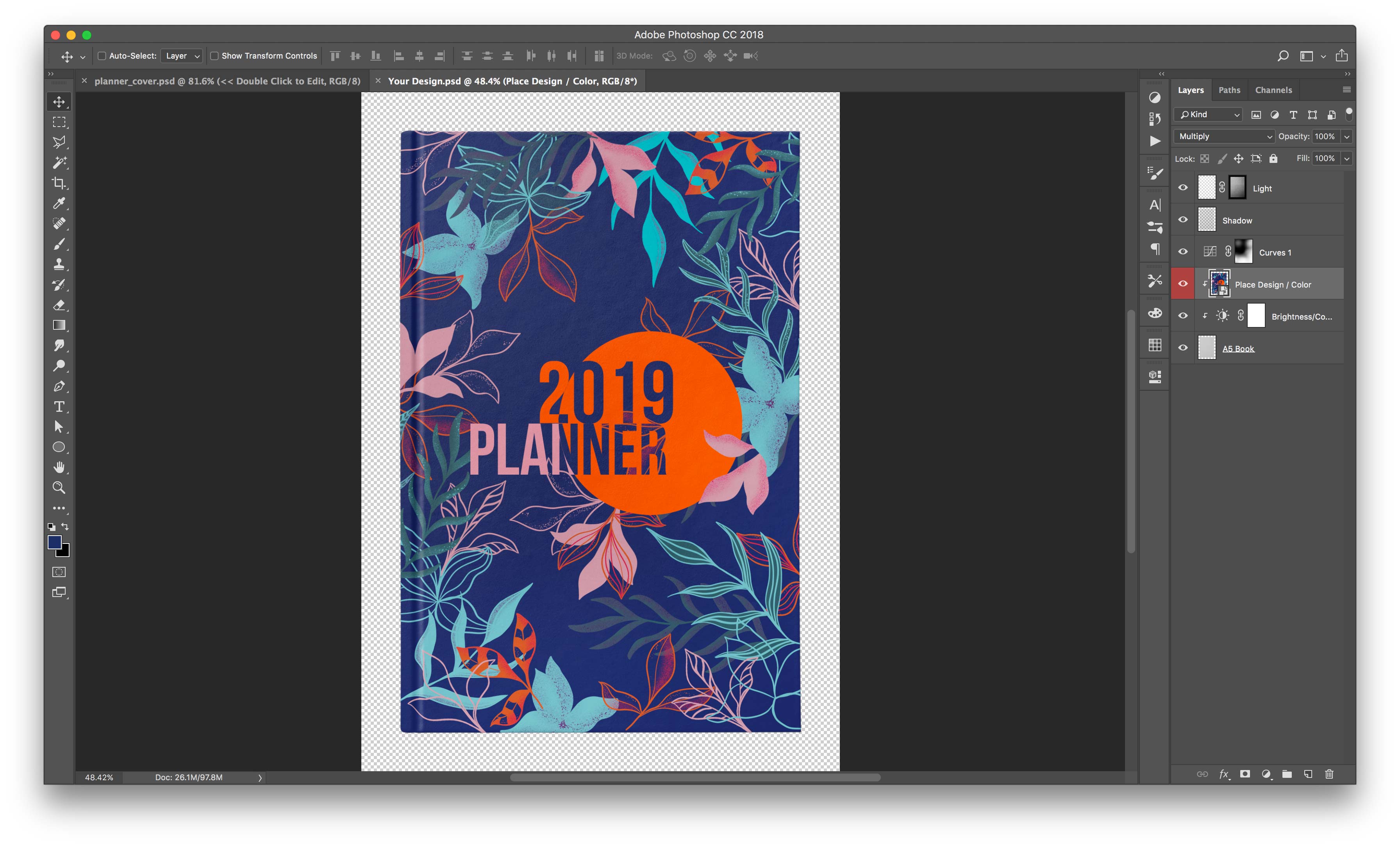 Now, in here all the magic is happening. You can design your own cover using drawn illustrations, patterns, changing background/ text color etc.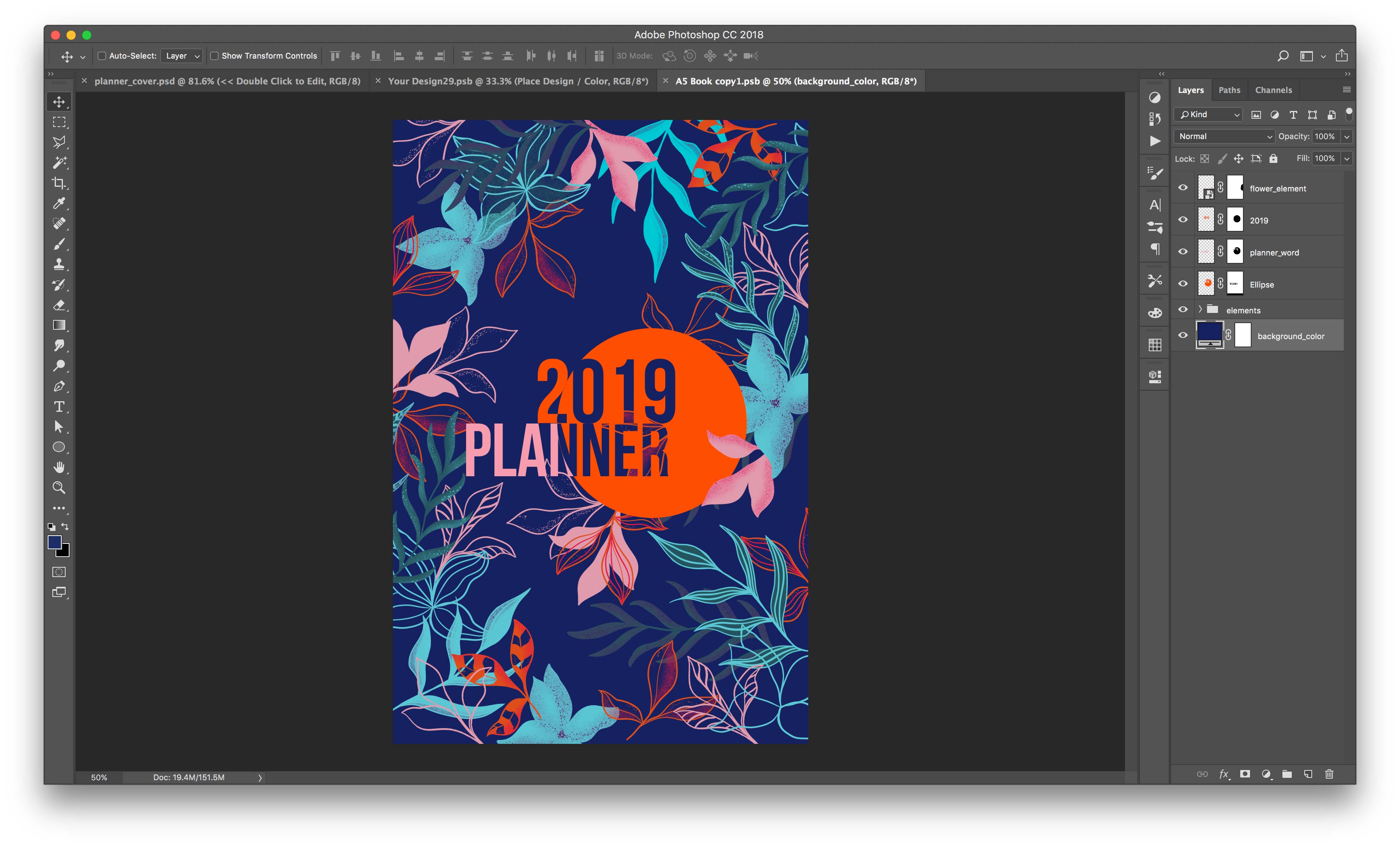 Some examples of possible cover variations: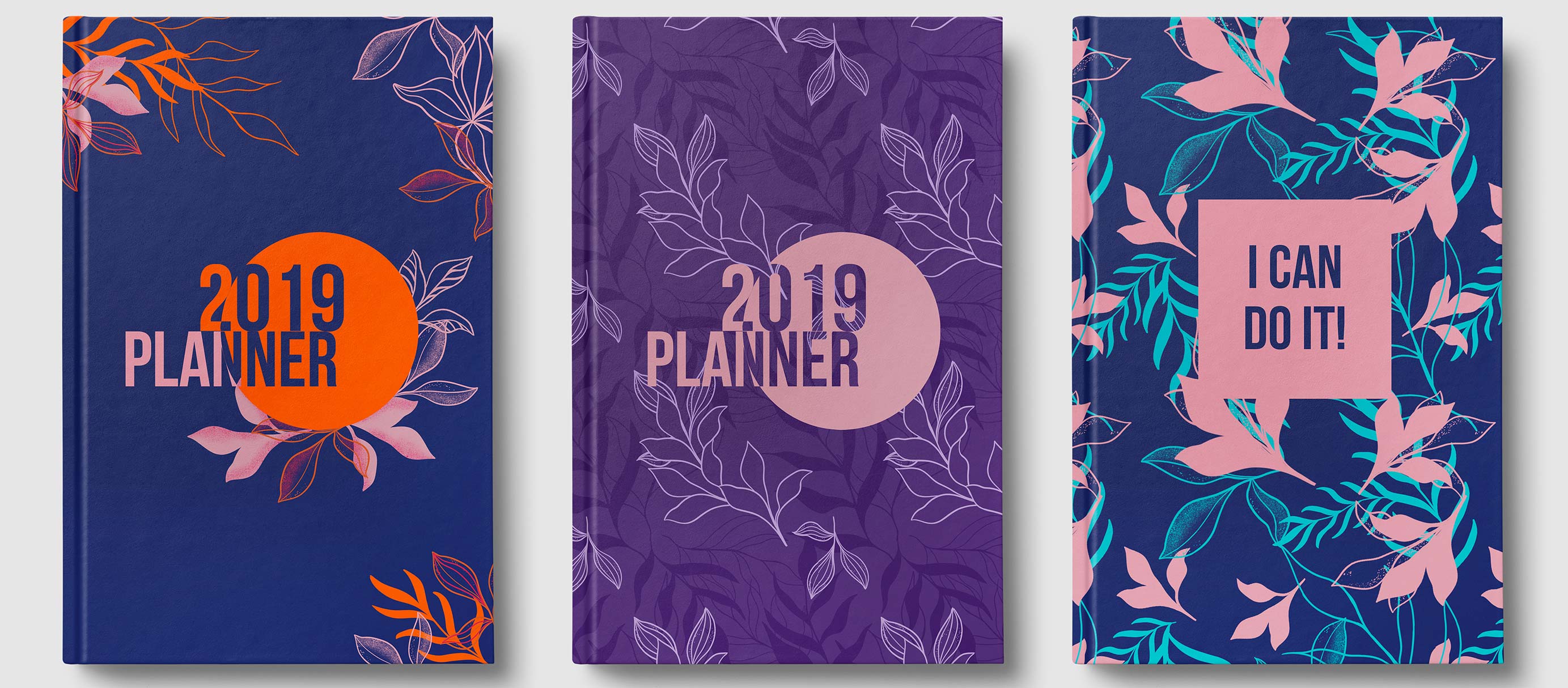 In this video:
quick overview ( 0:01 )
how to select and move elements ( 0:20 )
how to change background color ( 01:27 )
use illustrated elements to design your own cover ( 01:51 )
how to use patterns ( 06:00 )
how to save cover design ( 09:33 )
how to add your text on the cover ( 10:06 )
how to save your cover as .jpg ( 12:19 )
Design your first planner spread
The original first spread of the planner looks like this:
But you have full freedom to design it the way you want to: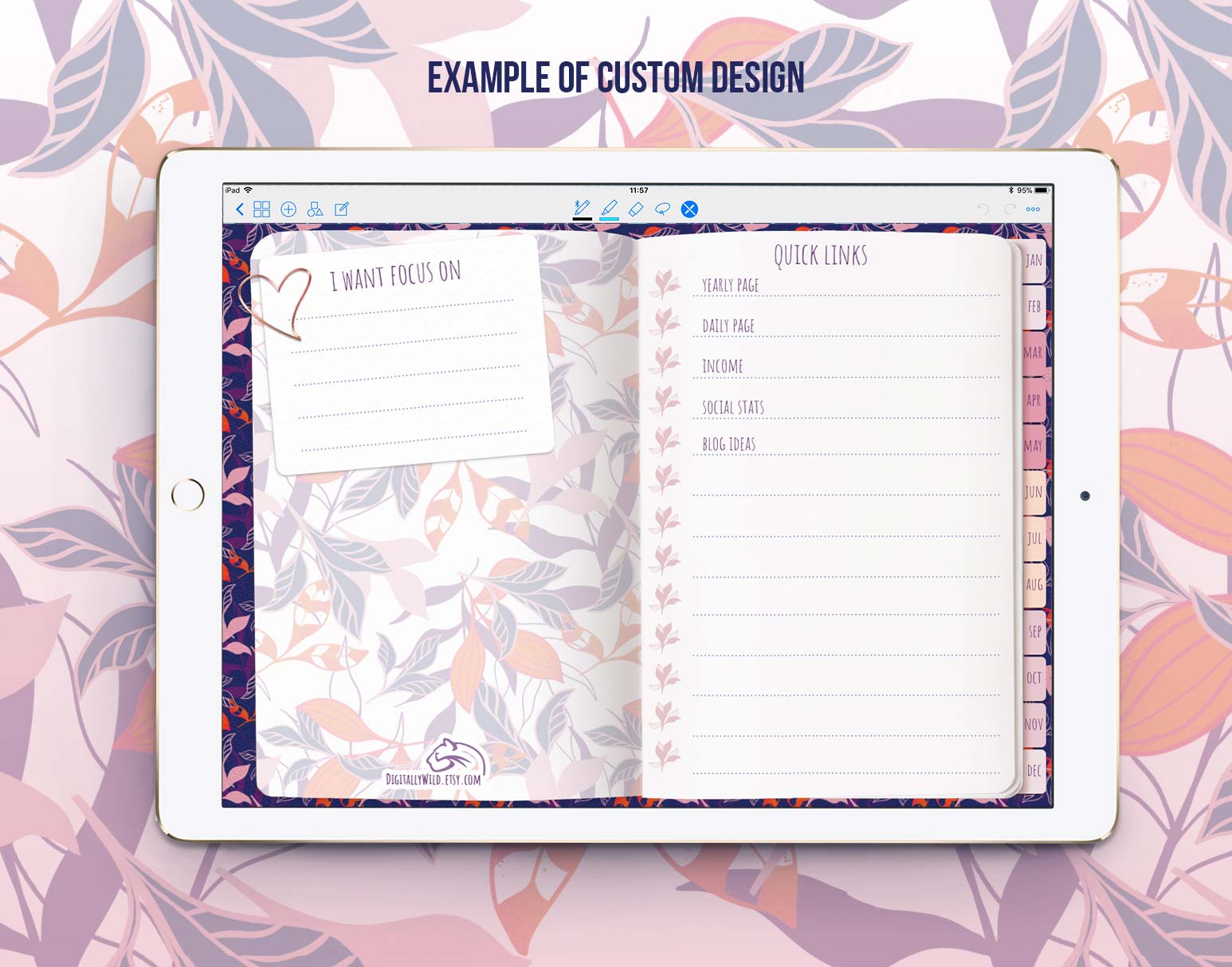 When you download the .psd file named First spread and open it in Photoshop, this is how it'll look like inside: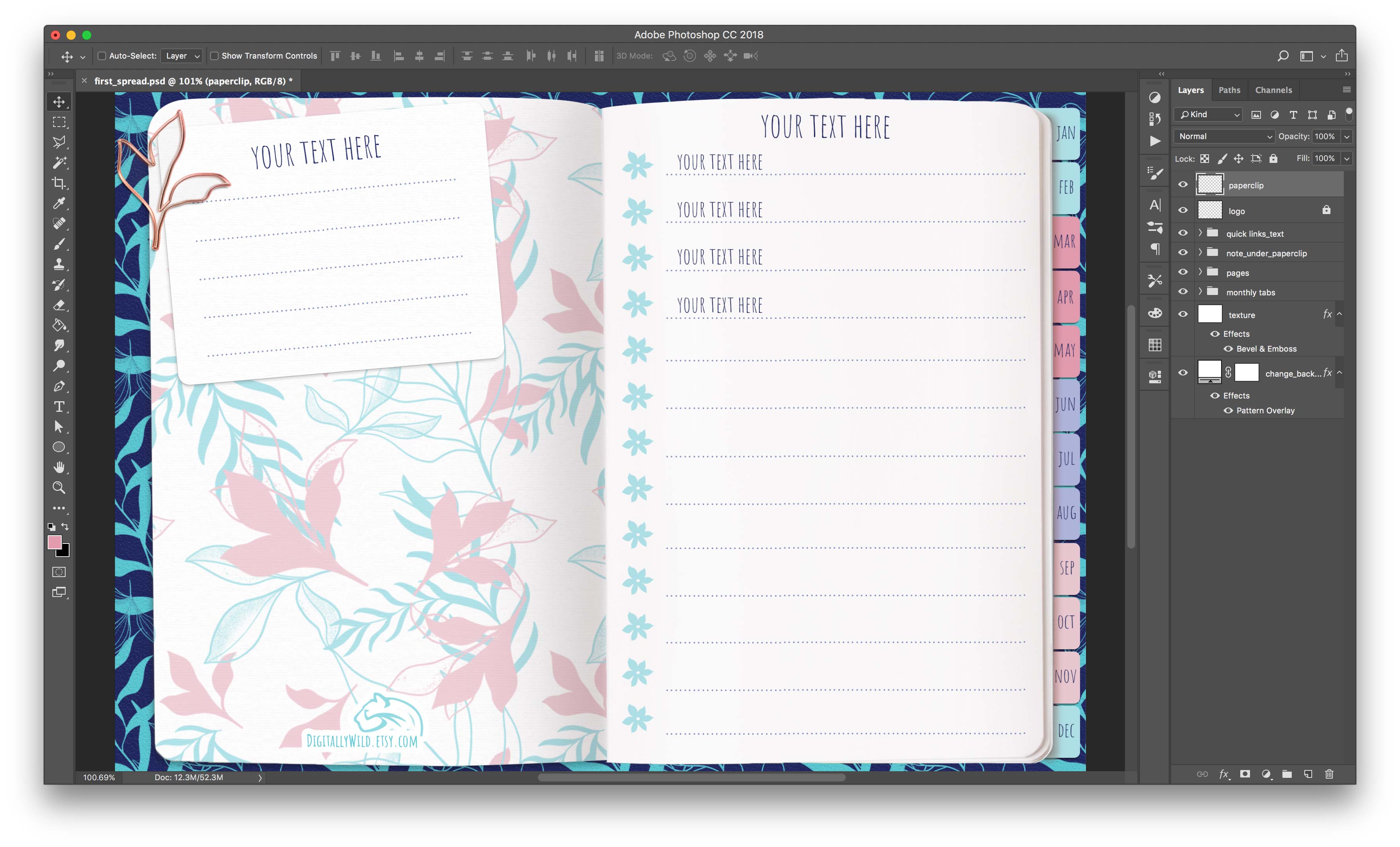 As you can see, all layers and groups are named. So you'll easily find needed elements.
In this video:
how to change background to one color ( 0:02 )
how to change background's pattern ( 01:41 )
how to change monthly tabs color ( 03:11 )
how to change pattern on the first page ( 05:13 )
how to add your text ( 06:22 )
how to change links icons/ shapes ( 07:17 )
adding text for the Quick links ( 11:12 )
edit paperclip ( 13:04 )
how to download more paperclips for Free at the Library ( 13:18 )
how to save image to use in Keynote ( 14:57 )
Design your main spreads
When you open Main spread .psd file, this is what you'll see there:
It contains the same base as the first spread + you can change paper color, add a dotted grid, add lined and graph grid. You'll also have there monthly calendar and weekly layout.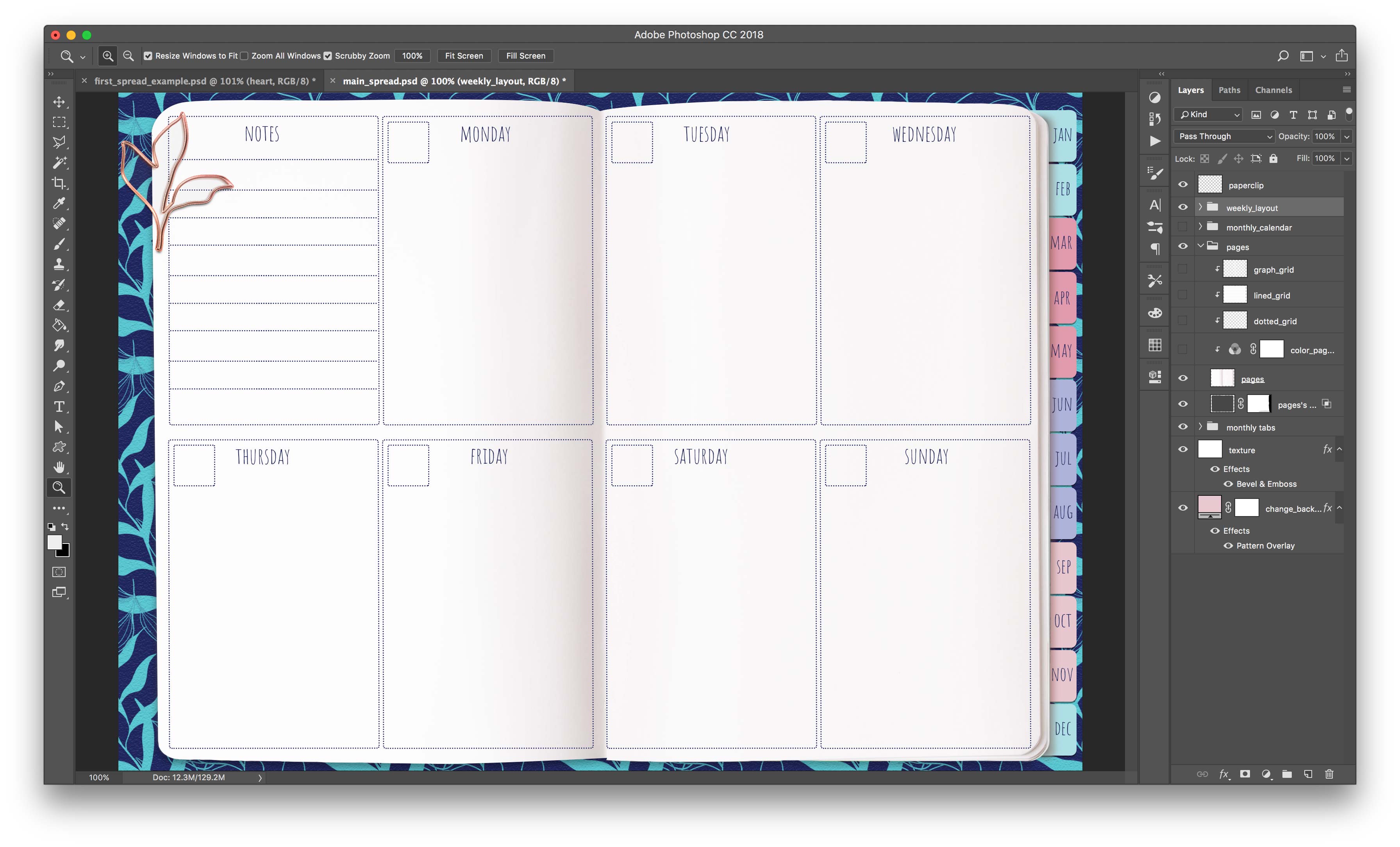 In this video:
how to copy pattern/color and monthly tabs from the first spread ( 0:46 )
how to copy paperclip to the same position ( 01:38 )
change color of the pages ( 02:11 )
choose your page grid (dotted, lined, graph) ( 03:18 )
how to redesign monthly calendar page ( 03:57 )
how to use your design of monthly calendar for each month page ( 07:56 )
weekly page. Redesign and use for each month ( 08:55 )
tips ( 11:05 )
Create custom pages from scratch
The awesome part about creating in Photoshop is that you have endless possibilities when it comes to page designs and layouts. In this video I'll show how you can create Daily page from scratch. Using those technics, you can create any layout you need for your planner.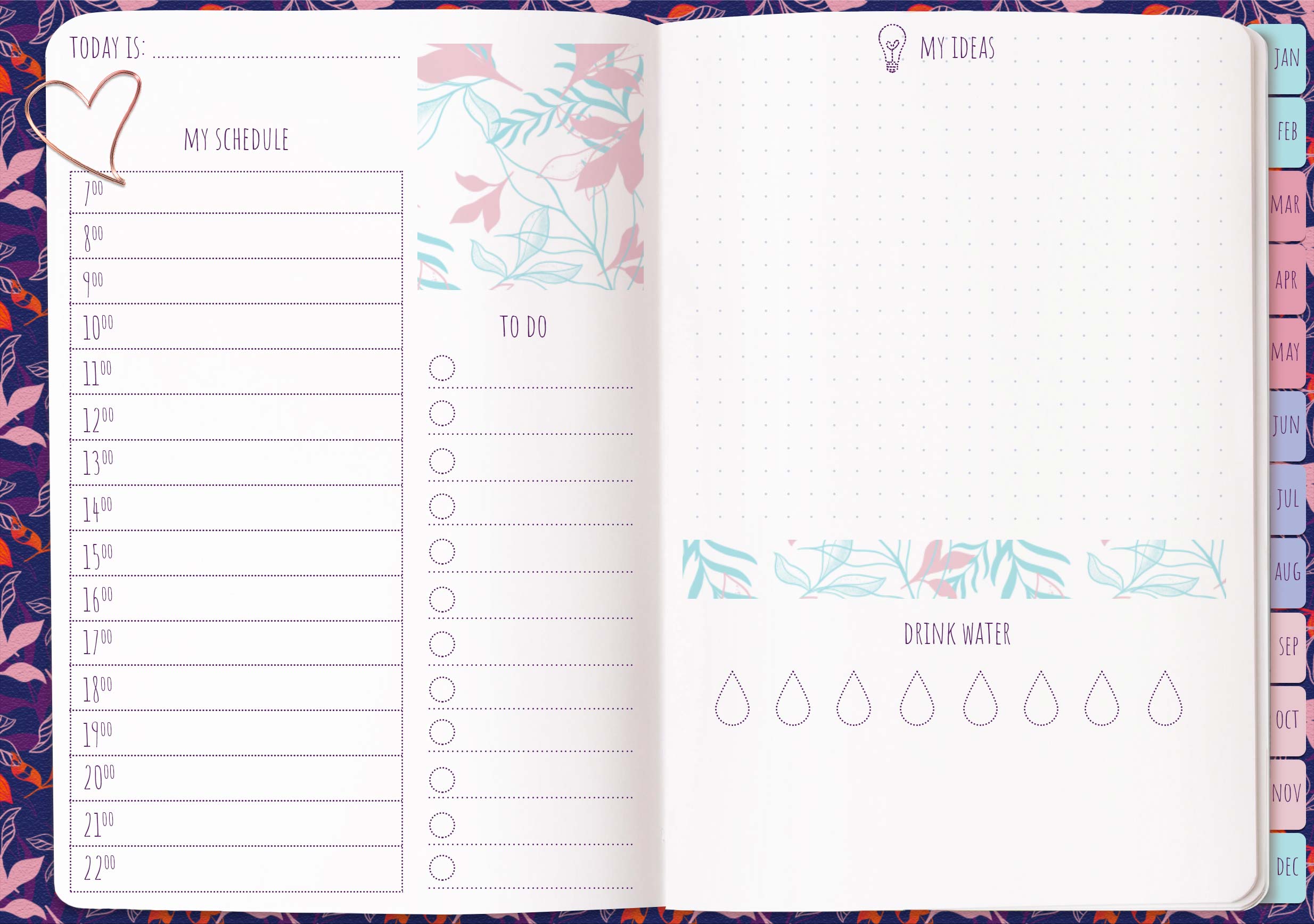 In this video:
how to add text and create dotted rectangle frame ( 0:04 )
how to add time slots for schedule module ( 01:37 )
how to make To do list with checkmarks ( 03:28 )
how to add images/ patterns and keep page's folded shadow ( 05:00 )
how to add part of dotted grid for sketches and ideas ( 06:19 )
how to add dotted stroke for the Photoshop shapes ( 07:46 )
Make clickable PDF in Keynote
When you designed and saved as .jpg files all of your pages, it's time to create linked pdf to use with Goodnotes or other app for digital planning.
If you have MacOs, you'll have Keynote app installed by default. I'm not sure what program can be used with Windows, so let me know in the comments if you are a Windows user.
In this video:
document sliders overview ( 0:00 )
how to replace image with your own design ( 0:32 )
how to copy linked shapes ( 01:21 )
how to add links ( 01:52 )
check how your links are working ( 02:31 )
how to Export clickable pdf ( 03:37 )
Check out this planner kit on Etsy
If you are a designer and sell digital planners, there is commercial license available for you. You can create and sell beautiful planners using this kit.
I hope you'll find those instructions useful and easy to follow. But please do not hesitate to ask if you have questions.
Talk to you soon,
Kate
Tweet
Share
Send
Share
Send
Pin