Everything you need to know about digital planning
You've heard a term "digital planning" before and wondering what is it? Or you already have your first planner added, but have no idea how to get the most out of it? This post is for you then. I'll cover EVERYTHING from A to Z and lay down the resources and apps you'll need, as well as Pros and Cons of going digital.
You don't have to be tech whizz to start planning digitally on your tablet. And even if it seems overwhelming at first glance, it's not, I promise. Digital planning is really awesome and have so so many perks.
Let's get started!
What is digital planner/ journal?
Digital planners are basically hyperlinked pdfs. Hyperlinks will redirect you to another location within pdf by tapping on certain word or image. For example, tapping on date in monthly calendar will redirect you to the weekly/ daily page of that month. They look just as your regular paper planner (because I use real paper images in my designs), and you can write in them just as you would in paper planners. Even tho they look like regular planners, digital ones are full of functionality and cool features that will help you to be more focused and organized.
Tools needed
Tablet (iPad or Android based)
Apple pencil or compatible stylus
Note taking app
Digital planner/ journal
Note taking apps
In this blog posts I cover the most popular note taking apps for IOS:
Goodnotes, Notes Writer, Notability, Flexcil
The best part is that they all offer one time payment and under $10. So you purchase it ones, and don't have to pay extra when app is updated, which is nice.
For Android users, check Noteshelf, Xodo, Metamoji at the PlayStore.
When you chosen an app, get comfortable with it. Try all the basic tools first like writing, clicking on tabs, selecting things, scrolling pages. You'll learn more hacks about your chosen app as the time go by. But don't try to do all things at once and jump right to making fancy planner pages. You'll just get more overwhelmed. Create a simple document first, try the tools.. get comfortable.
Choose your digital planner
After you downloaded note taking app to your tablet and got comfortable with it, it's time to find a perfect planner.
I have a huuge selection of planners and journals for every need and aspect of your life.
You can also download Samples for Free and get the feeling of what it is and how hyperlinks are working.
Portrait orientation planners
Great for these who prefer to write on tablet in portrait mode, like on notepad. Keep in mind tho, that when you'll rotate tablet to landscape orientation, planner will also rotate and have empty space from both sides.
The plus of portrait planners, is that you can open two of them with split view and see everything on one page without the need to move page right to left.
Landscape orientation
These planners have a paper spreads like in regular open notebook. You can write in them just as you would in your paper planner.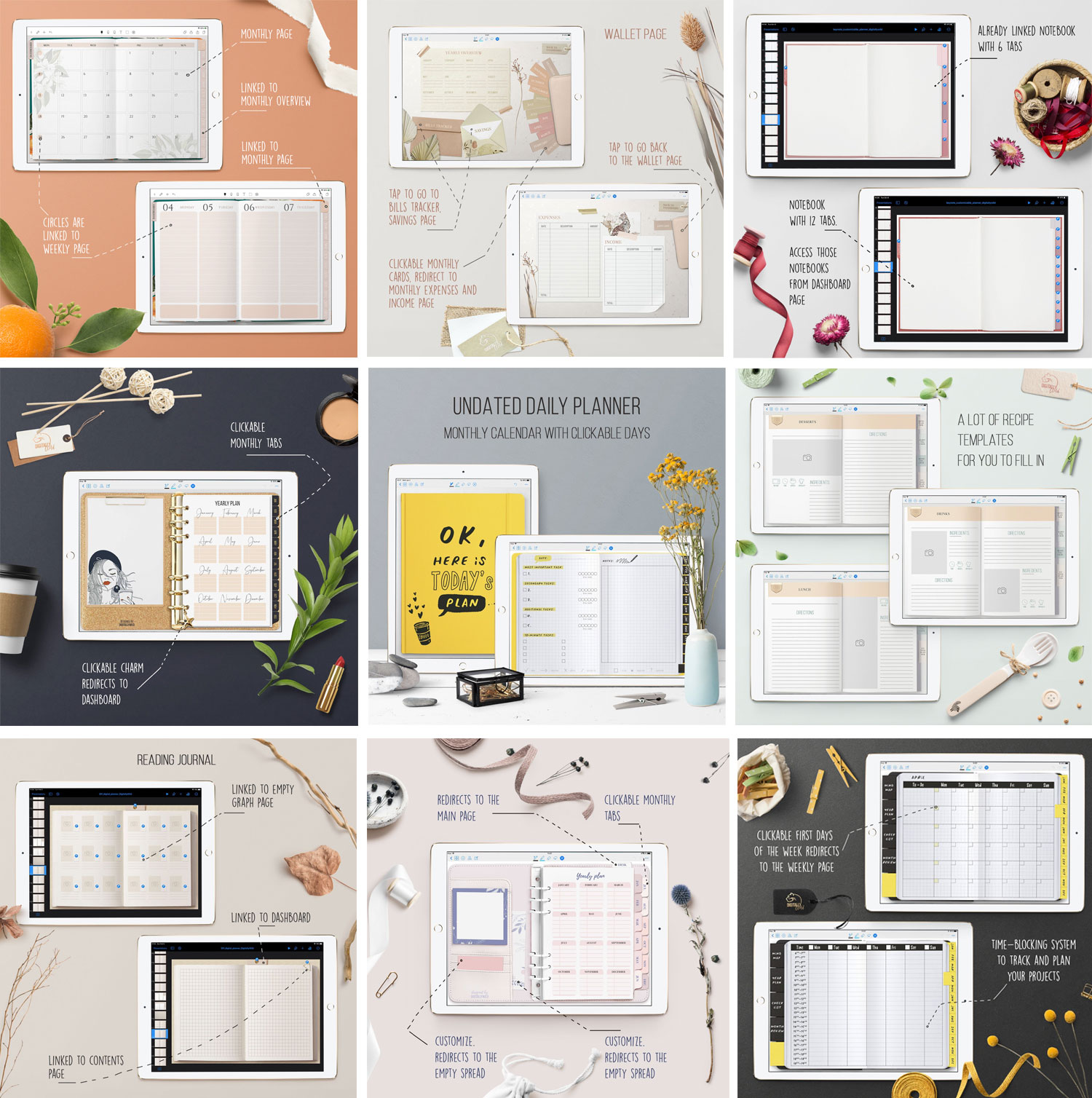 Dashboard styled digital planner
I love All in One planners, because why limit yourself to having only one planner if you can have to-do lists, notebooks, financial planners, photo books, mood boards, journals within one document? This is the beauty of digital: you can have ALL your documents in One place, quickly accessible in a couple of clicks.
Elements at the main planner dashboard are linked to other sections of planner and you can return to the main dashboard from any page you are on.
I'm a big fan of having real paper spreads, notebooks and papers on my Ipad. Most of the digital planners out there looking too digital. This was one of the main reasons I started DigitallyWild brand - to create real looking planners and journals, combining the best from two worlds.
Create your own digital planner
If you are feeling creative and want to try and make your own digital planner, there are a couple of options.
First one, you can get a Customizable planner. This type of planners include Keynote file, which allows you to make changes to the look and functionality of the chosen planner.
Keynote app is a free app for iPad users. If you have Android based tablet, you can also get customizable planners. But, you'll need to convert Keynote file to PowerPoint file format online. Or use Keynote file at the icloud.com.
Customizable planners:
DIY digital planner (Step by step customization tutorials are by the link)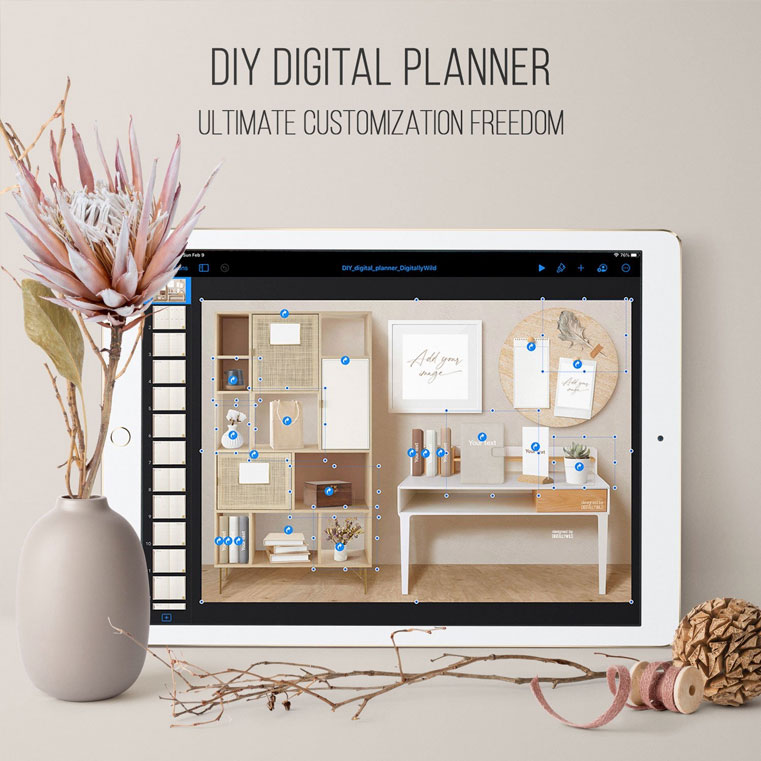 Plant Lover Customizable planner (Step by step customization tutorials are by the link)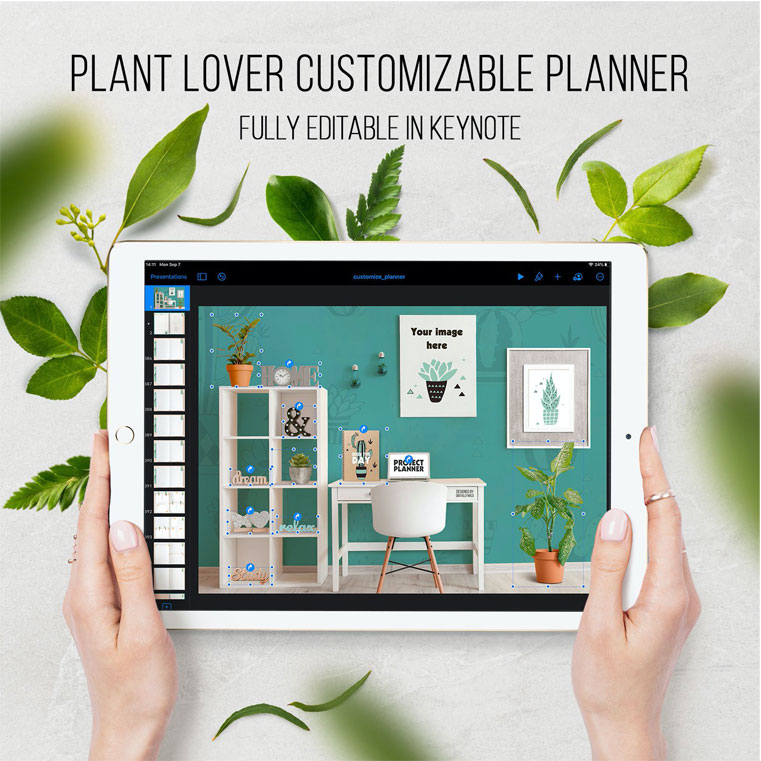 Editable digital planner (Step by step customization tutorials are by the link)
Customizable scrapbook journal (Step by step customization tutorials are by the link)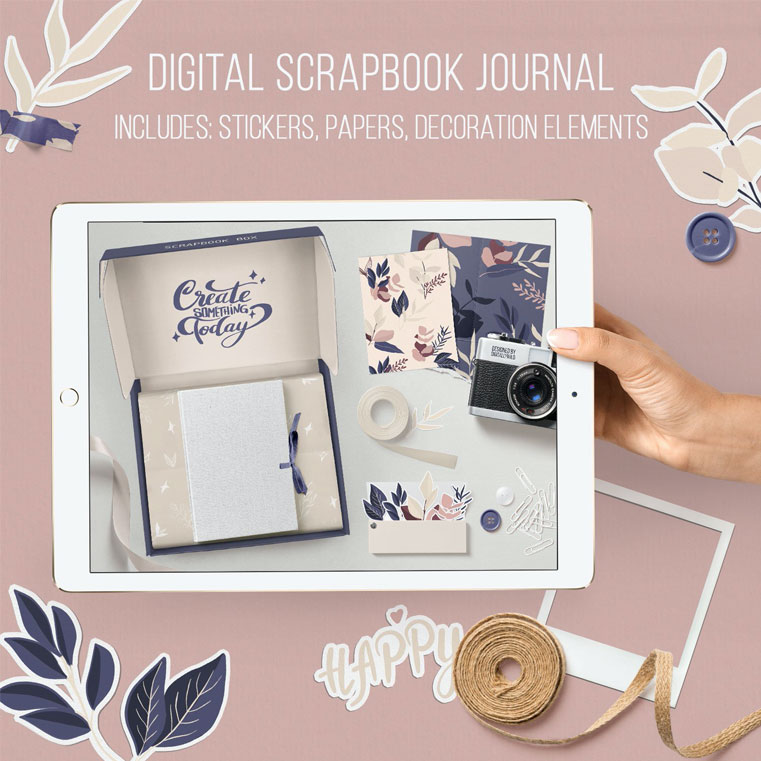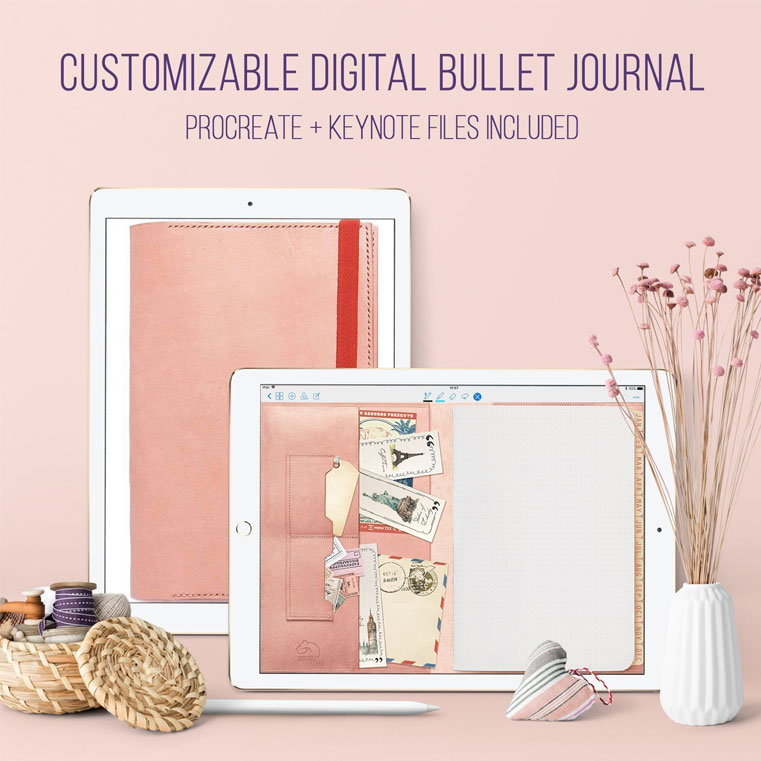 If you have Photoshop and would prefer to design layouts there, check out Design your own Planner.
And, if you want to go further and sell planners you've designed, check out this course . It includes not only tutorials, but also resources you can use to create your planners/ journals.
How to add digital planner to note taking app
After you purchased the planner, on Ipad the download will be automatically saved to Files app, under Downloads folder. You can also save it to Dropbox or Google Drive.
Tap on the downloaded .zip file to unzip it. In the folder, locate pdf planner, tap on it - Share - Open in Noteshelf (Goodnotes).
Another option is to Import planner from note taking app. Tap on the plus sign - Import document - choose Downloads folder or location where you saved the planner file.
Pros of going digital
I believe I'll list more pros than cons, because I'm a huge fan for many years and this is what I do and breath with. :) So here we go:
Save some $. You can use one planner year after year by importing it as a different document to your note taking app
You can access your planner anytime and add tasks on the go from your phone or laptop. This is because most note taking apps allow installation on multiple devices and offer synchronization between them. So even when you don't have Ipad with you, you can quickly add notes to the planner from your phone
Hyperlinks. Jump to the needed page in a tap
No more fear of messing up the spread 😀 You can erase, move, delete, recolor, resize everything. Be careful with that one tho... don't fall to the rabbit hole trying to make a perfect spread. It's better to spent time actually doing the tasks, than making a perfect spread writing them down. Just saying 😀 I can procrastinate on that one a lot myself
You can handwrite or you can type. This is the perfect combination of both worlds. And, with matte screen protectors you'll get that texture and friction between stylus and screen as you would when writing on paper
You can add layouts you need
You can add photos and images straight from camera roll
You can copy/ paste as many pages as you need and never run out of pages to write on
Never loose planner or journal. With cloud-based storage spaces you can back up all your documents and never loose a thing, even if your device will malfunction
Tablets have passwords and face recognition. Which means that all your private darkest secrets are well protected :)
The whole palette of colors is available in a couple of clicks. No more buying each pen color and highlighter separately than carrying them in bulky pen cases. You need just one pen, which will write with any color you can think of
It helps to be more organized. No more separate pieces of paper and post-it notes lying all around the table. You can have them in one place in your digital planner
Stickers
I list stickers as a separate Pros, because they are just Awesome and there are a couple of things you might want to know.
There are TONS of them out there. Starting from Free ones you can find here to themed sticker sets.
I love to use journaling sticker kits not only with my scrapbook journal, but with planners too. They include stickers, real papers, decorative elements, paper clips, you name it. And these kits are a great way to add even more real touch to your digital planner.
In the same way you'd add a paper note with paper clip to your paper planner, you can do the same with digital ones. You'll have the same look, and you can have a lot of fun combining notes with stickers and decorative elements.
Journal with me video:
There is also a monthly subscription. Each month you'll receive themed stickers, monthly/ weekly layouts, trackers, sticky notes, decorative elements and other cool useful stuff for digital planning straight to your inbox.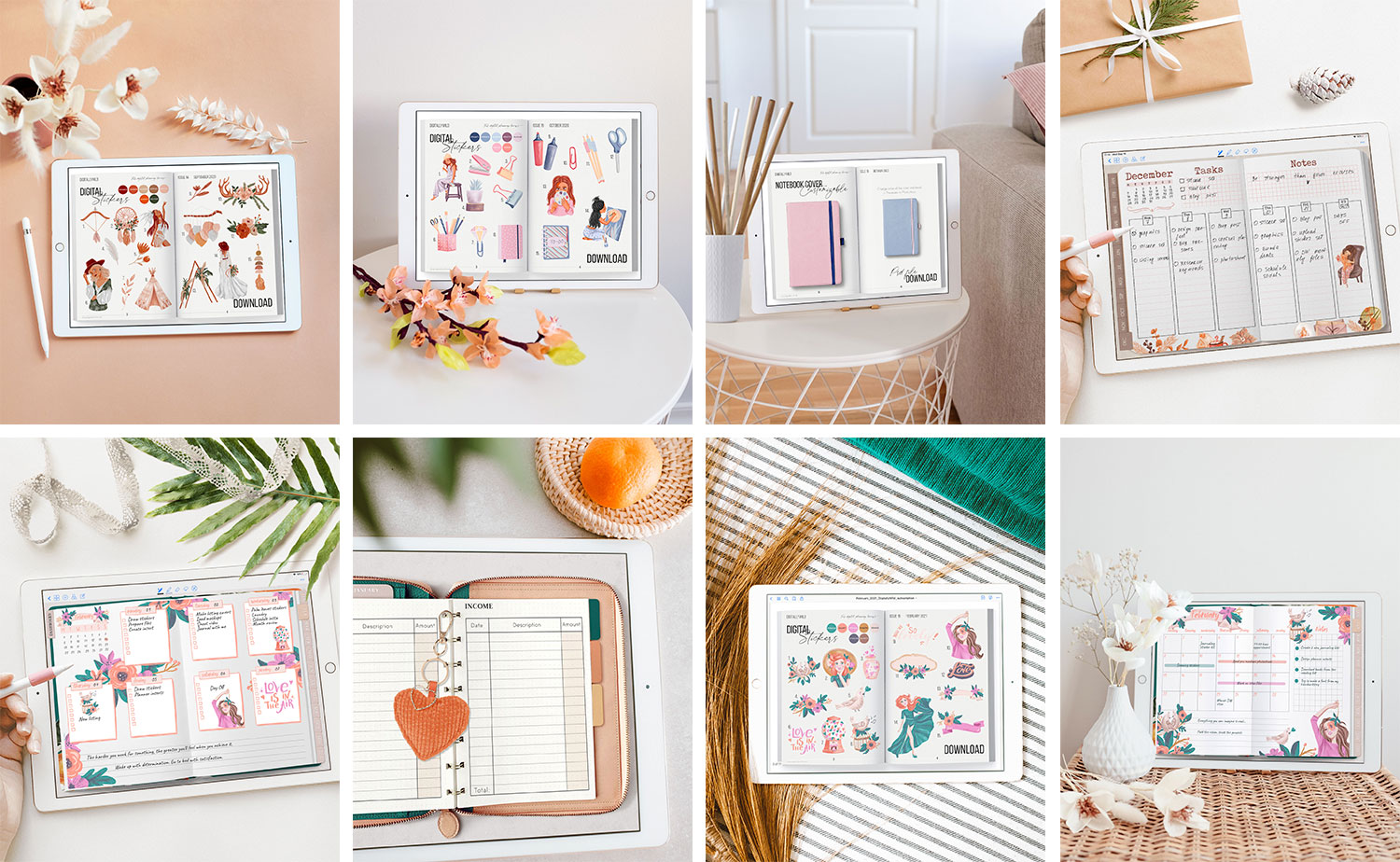 How to import stickers to note taking app
There are several options on how to organize and store digital stickers for quick access. In this post I explain in details How to Organize digital stickers using sticker book.
Sticker books are a great way to have all your sticker stash in one place, categorized and ready to copy/ paste to planner page.
After you purchased/ downloaded stickers you can:
save them to Camera roll
save to Dropbox/ Google Drive
Then make a split view of note taking app and camera roll (dropbox app) and drag and drop stickers one by one to needed planner page.
Planner layouts work in the same way as stickers. You can copy/ paste them within one document or insert from Camera roll/ Dropbox/ GoogleDrive.
To copy sticker in note taking app:
Choose Lasso tool
Select needed sticker with Lasso tool
Tap on Copy in the drop down menu
To paste sticker:
Tap anywhere on the screen and choose Paste from the drop down menu
Cons of going digital:
Super short list of cons I can think of:
You might miss the feeling of paper texture and turning the pages
Might be hard on the eyes to always look at the screen
Note taking apps are not perfect and sometimes luggish. They can switch off by themselves, freeze or functions may stop working, and you'll have to restart app/ tablet
Your tablet might be out of battery life in the moment you wanted to add urgent tasks or write down an idea
There is a learning curve for note taking apps
There are, of course, ways around all of the issues above, and everything depends on the personal preference. But you get the idea :)
Digital journals
If you are a fan of bullet journaling on paper, you'll love it even more with digital journals. With digital, you can add as many pages to your journal as you want and use pre-made layouts. Not to mention that there is no pressure and fear to mess up the layout.
I'm also a big fan of digital scrapbooking. This scrapbook is customizable and have separate pages within it to categories and store scrapbook stickers, papers and decorative elements. It also has a real paper texture. So you can have the look of real scrapbook on your tablet. This is a great way to keep your memories alive, have fun and be creative.
Journal with me video:
Procreate app
Procreate app comes hand in hand with note taking apps. This app is not only for drawing, but it also great for customizing and decorating your planners and journals. There are so many possibilities and things you can do with it.
You can add monthly/ weekly layouts to any planner and make them fit perfectly.
You can create your own digital stickers:
You can open psd (Photoshop) files in Procreate and customize some planners. I'm customizing Plant Lover digital planner in the video below.
To showcase your planner spreads beautifully on social media/ your blog, I have Ipad Pro mockups, that can also be used in Procreate.
You can create your own layouts in Procreate and use them with journal/ planner of your choice. This is to name a few. The possibilities are endless.
Useful tricks for digital planning
I'm using Noteshelf app, but these tips will work in similar way with other note taking apps like Goodnotes, Notability etc.
Copy/ paste handwritten text to another planner page, using Lasso tool. I use this one a lot in my weekly pages. If by the end of the week I have tasks that I didn't get around to, instead of writing them down again for the next week, I just copy/ paste them
Copy entire planner page. This one is great when you have a custom daily layout you love and want to use it again for the whole week. Just duplicate page with layout, erase handwritten text (if needed) and use it again
Install custom font to use in your planner. To do it, download free iFont app. You can find free fonts for personal use at dafont.com. After you downloaded font, open iFont app. Choose Import - select font and follow app instructions to install
Scribble is a great way to have beautiful notes. If you are not a fan of your handwriting, you can turn it into text easily. To activate Scribble on your Ipad: go to Settings - Apple pencil - enable scribble. In note taking app choose Type tool and start writing. Handwriting will automatically convert to typed text
Insert a photo from Internet (safari browser) or Pinterest without saving to Camera roll. This one will save space on your Ipad
Lock images, move front to back. This feature is only available in Noteshelf app and one of the reasons I switched from Goodnotes. Very useful to lock weekly layouts and then add stickers on top. I also love this feature for journaling. Makes it so fun to layer up digital papers and stickers, creating beautiful spreads
Create checkboxes for to-do lists
With split view you can use multiple planners at once. I have my main planner and Content planner open simultaneously. This way I can write in both of them on one screen without the need to change tabs or open it separately. This feature is great for using sticker books too. Open your journal/ planner and sticker book. With Lasso tool copy sticker and paste it to needed planner page
So now you know how cool digital planning/ journaling is :) I hope this post was helpful and you are ready to go digital. If you have any questions, please feel free to ask in comments below. I'm always answering :)
Talk to you soon,
Kate