Design digital notebook for Goodnotes
I've seen a lot of interest and positive feedback from you guys after the launch of Design your Own digital planner. A lot of you are enjoying to design in Photoshop and create your own custom digital planner.
If you also like to take notes on your Ipad or tablet, I've prepared notebook for you, which you can design as you want.
Even if you never opened Photoshop before, just follow step by step tutorials and you'll be able to make your notebooks. You can create unlimited number of journals with this design kit. And I hope you'll have a lot fun doing it :)
Being a huge sucker for all things cats, no wonder I choose this theme for the collection :D
Cover design
For this design kit, I've drawn 5 cat illustrations and prepared textured cover. You'll have those illustrations as .png files on the transparent background and will be able to play around with cover color combinations and add your text.
I also included illustrations with and without snow, and just cats with no leaves on the background, so you'll have even more options to play with. :)
Some of the possible designs for the cover.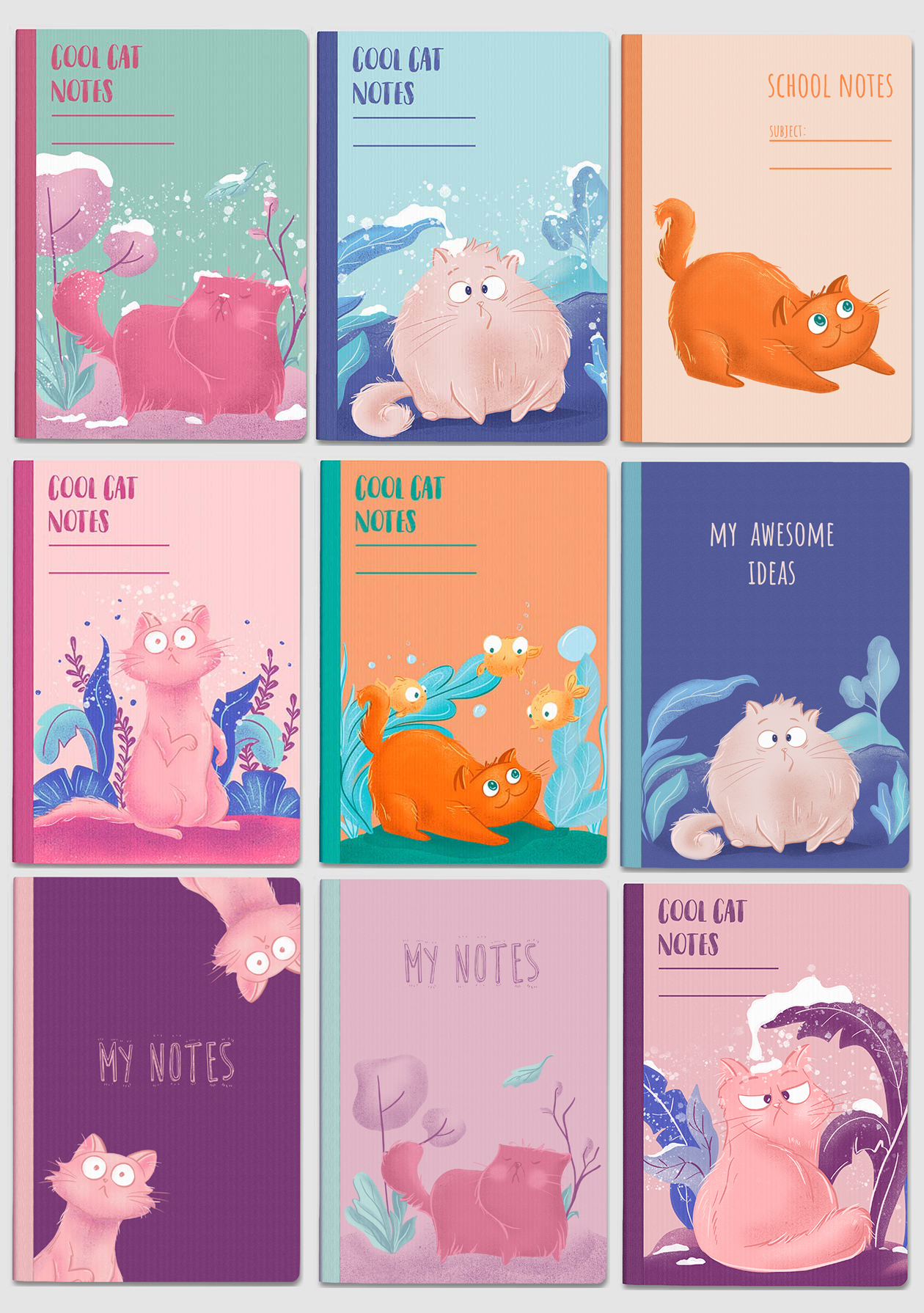 When you download and open cover.psd file, here is what you'll see: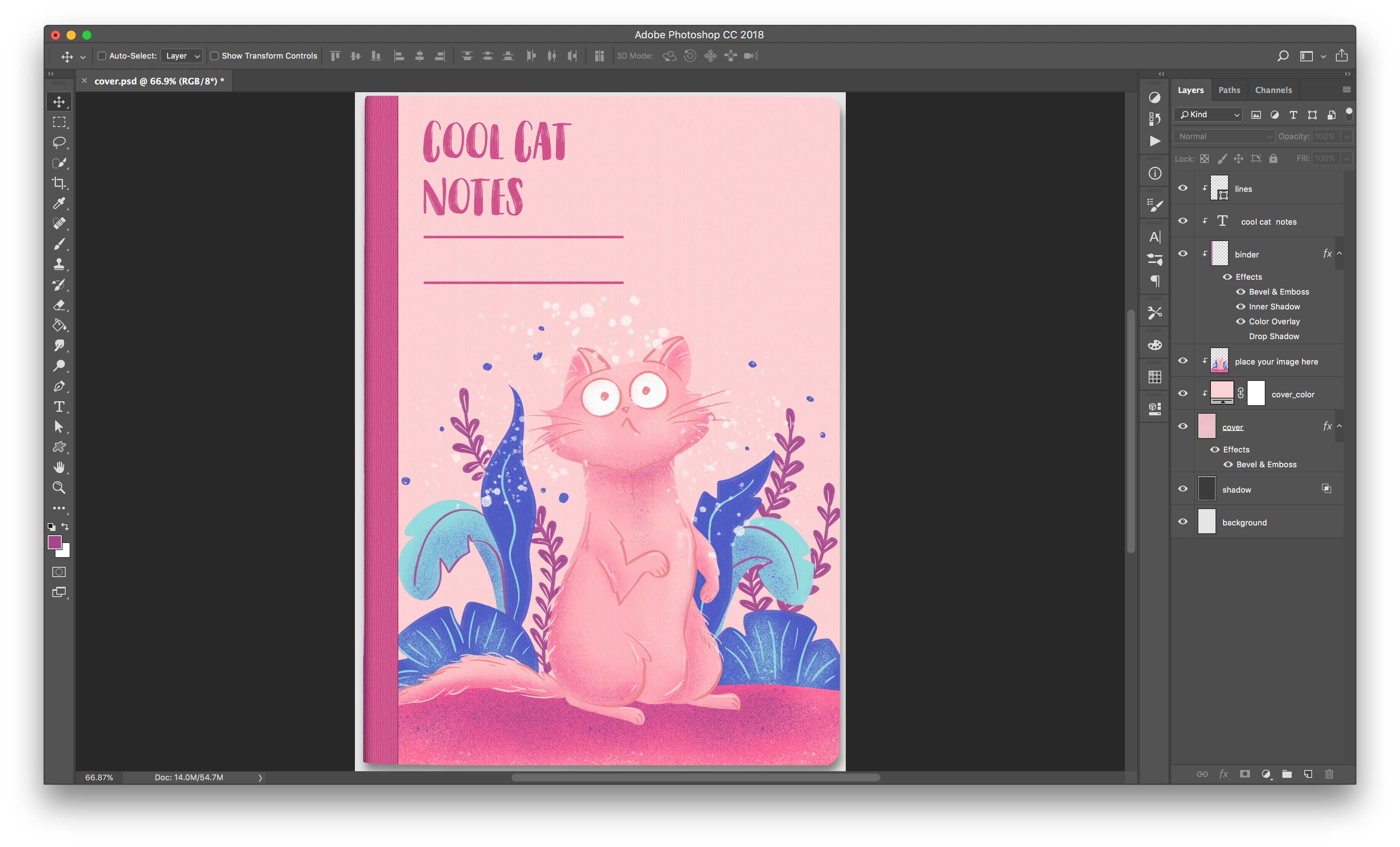 In this video:
How to import illustration for the cover ( 0:48 )
How to change cover color ( 01:31 )
How to change binder color ( 01:52 )
How to add your own text ( 02:18 )
How to remove or change lines color ( 03:06 )
Check for cover texture to be applyied for the illustration and text ( 03:28 )
How to save .jpg file ( 04:35 )
Design your first spread
What's inside first_spread.psd file: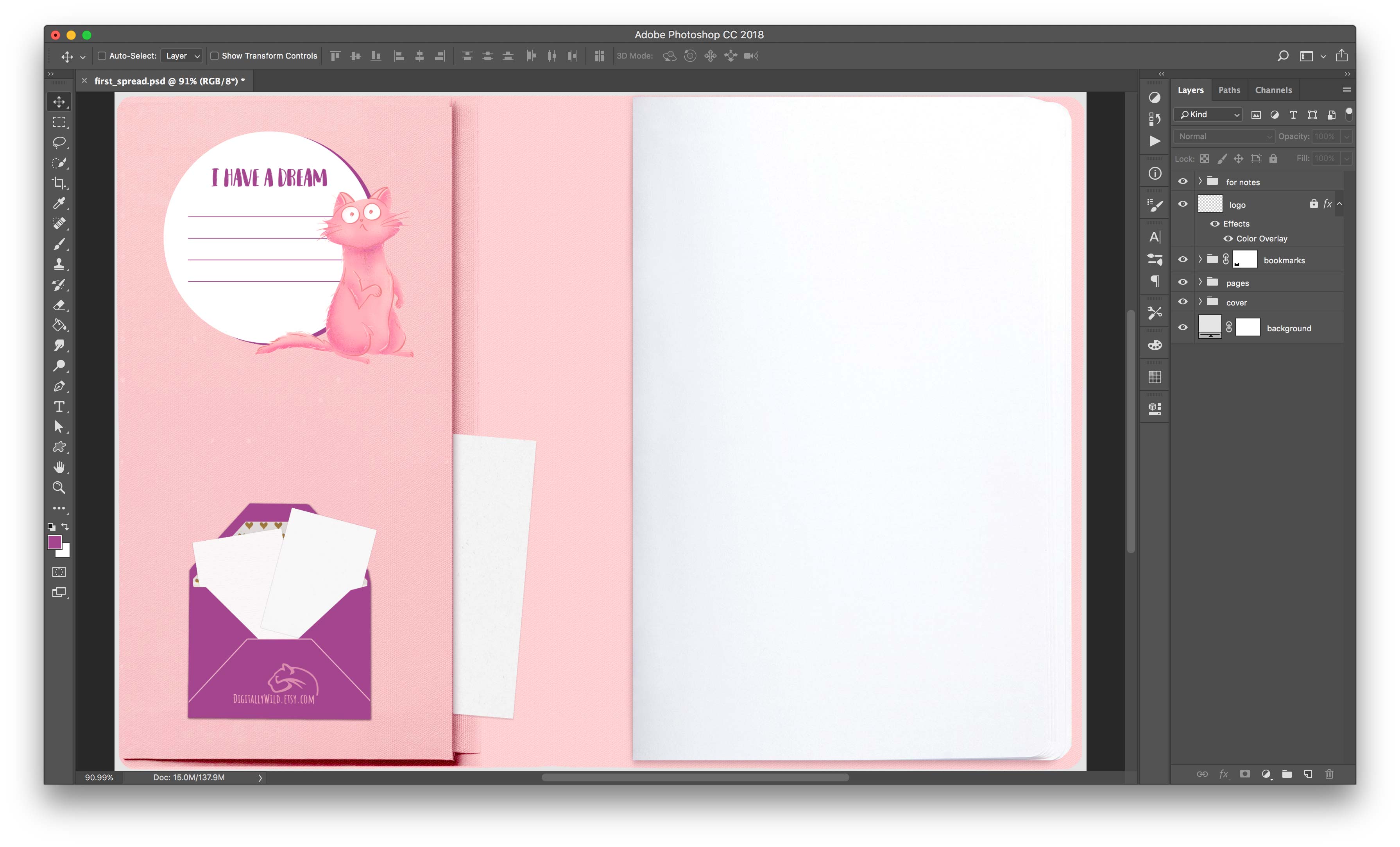 There is a lot of cool stuff that you can change here apart from the cover color :) Check out this video to see all the creative possibilities.
In this video:
How to change cover color and adjust pocket color tones ( 0:52 )
How to change envelop color ( 02:30 )
Customize pages: add lined, graph or dotted layouts ( 03:42 )
How to customize bookmarks (quick links) ( 04:06 )
Customize "I have a dream" section: change text, colors, cats :) ( 09:27 )
Design your main spreads
Inside the open_spread.psd file: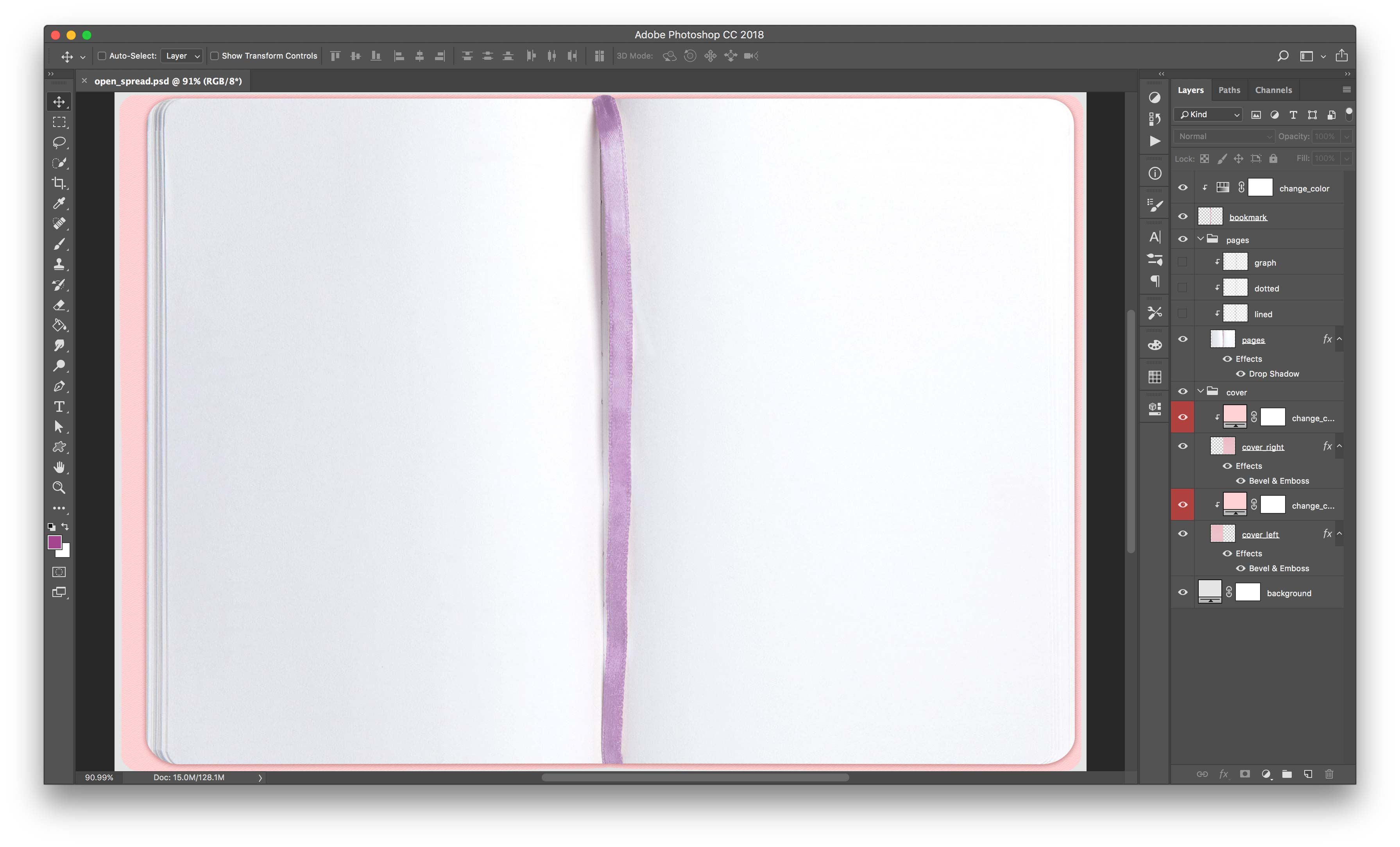 The one more cool thing about this design kit for notebook is that you can make the spreads you want: lined, graphed or dotted. It comes with a blank pages so that you can make just dotted notebook or create different layout for each of the 3 notebooks bookmarked sections. Totally up to you :)
In this video:
How to change cover color ( 0:04 )
How to add lined, graphed or dotted grids ( 0:44 )
How to change bookmark color ( 01:13 )
Finishing steps: put together your notebook in Keynote
In the download, I included the Keynote file as well. It'll make putting together your notebook much easier and faster.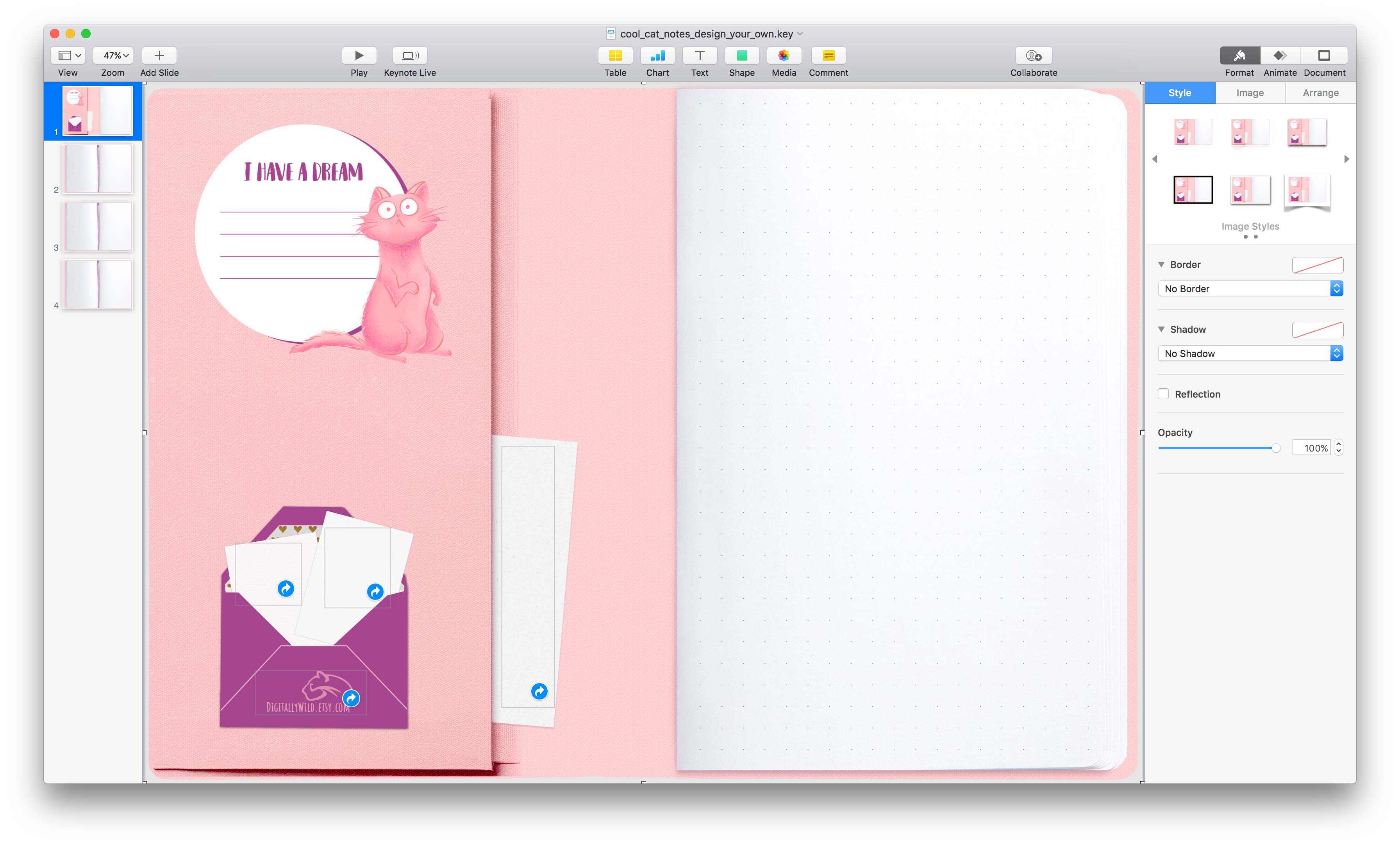 In this video:
How to change image on your own design ( 0:22 )
How to add more pages ( 01:11 )
How to export clickable pdf to use with Goodnotes or other apps for note-taking (01:35)
I've tried to cover all the main creative things you can do with this design kit. But please, feel free to ask questions or make suggestions.
If you are a designer who create and sell digital notebooks on Etsy, you can purchase the commercial license along with this kit to be able to sell your beautiful designs :)